A few weeks ago I wrote a post about the popular languages in the US. One of the surprises was that, after English and Spanish, the most popular language spoken was German. I wondered if it might be the descendants of German immigrants learning the language of their homeland or what. We don't think of German immigrants as a particularly recent thing.
If only I read my own blog. I wrote a post in 2010 about German immigration into the United States. I quoted from an article:
Germans are leaving their country in record numbers but unlike previous waves of migrants who fled 19th century poverty or 1930s Nazi terror, these modern day refugees are trying to escape a new scourge — unemployment.

Flocking to places as far away as the United States, Canada and Australia as well as Norway, the Netherlands and Austria more than 150,000 Germans packed their bags and left in 2004 — the greatest exodus in any single year since the late 1940s.

High unemployment that lingers at levels of more than 20 percent in some parts of Germany and dim prospects for any improvement are the key factors behind the migration. In the 15 years since German unification more than 1.8 million Germans have left.
Anyhow, it's not just a recent thing, but was more prominent in relatively recent history than I thought of. Pew points out that it's Germans, as opposed to Italians or Irish like I might have guessed, who Mexican immigrants have displaced as our biggest source of immigration.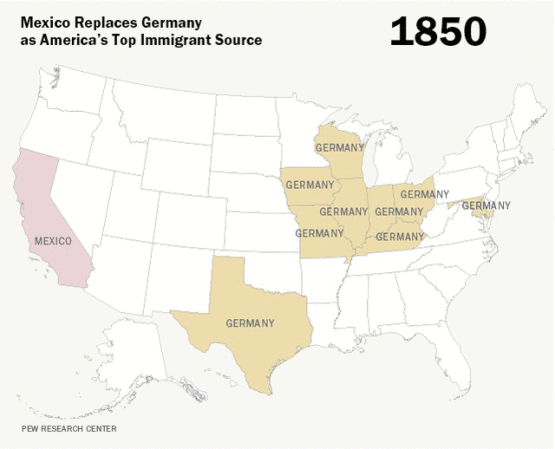 As you can see from the map, as recently as 1960 the Germans dominated the immigration landscape (to the extent that any country did), and in 1990 they were right up there with Mexicans.
About the Author
If you are interested in subscribing to new post notifications,
please enter your email address on this page.