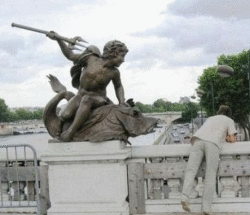 Colleges are spending more on athletics than ever. The biggest increases, however, are occurring at the lower levels. My own take.
The football players at Northwestern got their union vote, though we won't know the results for some time. Not all of the players were on board.
It would say something irredeemably ugly if having worked at McDonald's hurt your career. Fortunately, despite the recent study, it's not quite that simple.
The "zero hour contract" is definitely indicative of a problem in the labor market. It's hard for me to see it as not revolving around a worker surplus.
Japan has taken to making killer single malts and weapons. And it's not just alcohol and weapons.
Japan is reinstating its nuclear program."
Even if we had an optimal immigration policy, city-based visas would still make sense.
Low-income kids thrive in Salt Lake City, though some are worried that's changing.
I previously wrote about the phenonon of Hollywood-generated beefcakes. Logan Hill of the Men's Journal has more.
The New York Times has an interesting piece on the first modern cop drama, Hill Street Blues.
About the Author
If you are interested in subscribing to new post notifications,
please enter your email address on this page.