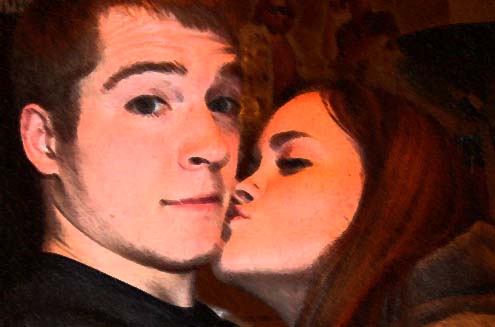 I've started listening to the 8th season of Frasier, which is the one immediately following the union of Niles and Daphne. As part of the terms for a non-acrimonious divorce from his four-day bride (that he just left for Daphne) he has to pretend to be her lover for a couple of months so that she can save face. You ever been in a situation where you've had to (or chose to) lightly pretend to be with somebody?
Due to some prior commitments, my ex Julie and I decided that we would keep the news of our breakup quiet. There's nothing quite like kissing your ex-girlfriend in public days after you broke her heart. I can only imagine what the feeling was for her. What we didn't know was that word has leaked within her family and the show we put on there was completely in vein. I should have known by the devil's glare that they were all giving me.
You know how sometimes people get lonely and so they find someone to be physically intimate with to tide them over? I've never done that, but I've sorta done the inverse, wherein I'm not having sex with the person but I am going out with them and acting quasi-romantically (ie we'd act like we were on a date). Generally speaking they were the sort of people that I might be otherwise interested in but there was one huge thing (such as that they'd recently dumped a good friend or they were way too religious) that made a relationship impossible in my eyes. In retrospect I'm less sure that they were as sure about that as I was, though.
Of course, this sort of thing happens all the time with actors and actresses who have to kiss and act like they're in a relationship without meaning anything behind it. Though I've done a bit of acting I've never done anything like that. Ironically I came somewhat close to assembling something that would have had me kissing Sally . It was a complete coincidence in that I didn't know that she would be interested in the role. It never panned out and I was a bit relieved about that, to be honest. The whole thing felt more than a little odd.
In addition to Frasier, I've been recently watching the web-only series Something To Be Desired. I hope to write more about it later, but there was a subplot that was of some interest to me. A very minor character on the show set up something called NeedAWingman.com, wherein this guy will pretend to be your buddy for money. It's good for cases where your girl is bringing a friend that you need distracted or if you just don't want to be going to a bar alone.
The concept is, in my mind, genius. I say that because sadly I could really have used such a service back in the day. Most of my friends had left Colosse and I had been kind of slow to build new ones. More than once I found myself looking for a guy to take with me on some double-date or something, typically a girl from the online personals that was understandably nervous about meeting a strange guy alone. It's actually quite embarassing in situations like that to say that none of your friends drink, most are bad in crowds, and you don't trust most of them around girls.
About the Author
If you are interested in subscribing to new post notifications,
please enter your email address on this page.