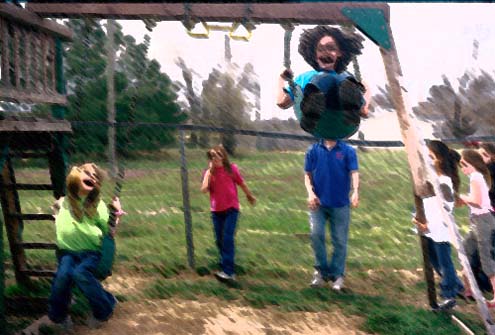 I was at a neighbors house when I read about it in the local paper, "Local High School Coach Accused of Sexual Assault."
I didn't even need to read the article to know who or what it was about. I immediately ran home and called by best friend Clint. "They got him!"
We were mostly indifferent to Coach Montgomery except insofar as we feared him. He had this cold and mean way of looking at us. We were in regular Phys Ed, meaning that we weren't athletes. We were also boys, making us even more useless to him. More on that in a moment. We'd had coaches yell at us before, but he wasn't one of them. Coach Montgomery had a quiet scorn for us girly boys that were just as happy sitting around talking as we were lifting weights.
But while he didn't like girly boys, he sure loved girly girls. We noticed it almost instantly. When he wasn't scaring the living hell out of us with a glare, he was smiling and flirting with the girl students. He was initiating borderline human contact, meaning that he wasn't touching them in inappropriate places, but he seemed eager to make physical contact with him. Many of the girls really appreciated the attention. Though not a remarkably handsome man, he had an incredibly impressive physique. While we were dodging basketballs thrown at our heads, he was otherwise occupied.
His inappropriate interests caught up with him and a girl's parents found out about it. Once it's out there, girls start stepping forward out of the woodwork. The secret that nobody cared about was suddenly out in the open. Coach Montgomery was having sex with students. A lot of them. When it all came out parents and administrators was wondering why no one had said anything. Our answer was that nobody asked. In all honestly we knew it was goofy and morally suspect, but it didn't seem as monstrous to us as it did to parents. There was never any indication that the sex wasn't consensual, even though some of the girls later apparently regretted it. The concept of authoritative manipulation hadn't really been introduced to us at that point.
In between the initial questioning and his eventual arrest, Montgomery attempted suicide using pills of some sort. I don't know what happened to him, but his career was over and his life wasn't doing much better. Clint and I actually got a little bit of delight in it all. We didn't like Montgomery and we couldn't appreciate what was so wrong about it because sexual harassment was something that happened to adults and authoritative manipulation was a concept we hadn't really been introduced to.
"It's kind of funny that his life is practically over but Horton got away almost without a scratch," Clint mentioned. Not well-versed in the ways of romance and certainly not that between an adult and a peer, the reason that we were so quick to pick up on what Montgomery was doing was because he looked at the girl students the same way that Coach Horton did.
Coach Horton was our coach throughout elementary school. Like Montgomery, he had little use for male students that weren't athletic and he had too many uses for girls of all sorts. Except unlike with Montgomery, these girls were in elementary school. Rumors swirled for quite a while about the favoritism that he showed girls and the inappropriate ways that he would touch them. Nothing nearly as straightforward as Montgomery (as far as anyone knew), but the kind of creepy thing that lingers with girls years later.
Despite all the rumors and some awareness by the school's administrators, Horton was there throughout my brothers' tenure at West Oak Elementary up until we were in the fourth grade. At some point he slipped up and touched the wrong girl in the wrong place. A girl whose parents had enough pull in the community that they didn't have to worry about the social repercussions of making an accusation. The problem for West Oak administrators was that if they were to fire him for molestation they would be be admitting that it took place and opening themselves up for a world of lawsuits from hundreds of parents. So they ultimately fired him for showing favoritism towards girls.
Last I heard, he was an elementary school coach in Colorado.
About the Author
If you are interested in subscribing to new post notifications,
please enter your email address on this page.