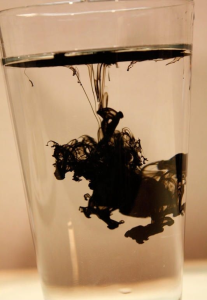 Rabbits: Cute, furry, and ready to be weaponized.
One of my favorite videos is a primer on how to pick up chicks. It shows an ugly guy walking up to a woman and asking her what her sign is and says that is the wrong way to do it. The right way to do it is a hunk walking up to a woman and asking her what her sign is. Apparently, this by-the-seat wisdom is wrong, and here's how to flirt.
Children bring with the more positive and more negative emotions for the parents.
New research suggests that cohabitation is not a predictor of divorce so much as when couples cohabitate. Here's a somewhat old primer on the downsides to cohabitation.
Here's a job we need to automate: Umpiring. They not only get it wrong, but they do so with systemic bias.
Bob Weber explains why we should wear productivity sensors on the job, and what they're telling us.
The story behind the scariest wardrobe malfunction in NASA history.
Removing tobacco branding may not do anything to stop people from smoking. I have no real opinion on this.
The New York Times discusses an issue of interest to me: Smoking and economic class. I'm glad that Clay County discovered vaping and wish the guy at the end all the luck on saving money for a down payment on a house.
Reports that free contraception makes women less careful appear to be misguided. My own view is that in a vacuum it could make a difference, but we're not in a vacuum and any effect is has is overwhelmed by cultural influence.
About the Author
If you are interested in subscribing to new post notifications,
please enter your email address on this page.