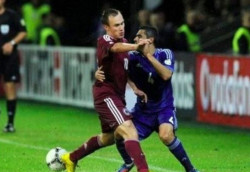 The corruption and fraud surrounding the EU is said to be breathtaking.
A number of conservatives and anti-immigration sorts have made some hay over Switzerland's decision to restrict immigration. It's worth pointing out, though, that the immigrants they are restricting are more of our H1B variety (except European, if that matters) than the immigrants they spend the most time complaining about here.
How Swedish tax policy lead to Abba's flamboyant outfits. (via Vikram Bath)
Wikipedia: Lottery mathematics
As the fiscal outlook of states improves, states are trying to figure out what to do with the money.
According to The Nation, feminism is undergoing some toxic Twitter wars.
If gun control advocates want people to believe that gun registration will not lead to gun confiscation, they should take care that gun registration doesn't lead to gun confiscation.
Pentecostalism is spreading among the immigrants. This sort of thing could, ultimately, be how the GOP improves its share of the Hispanic vote (over time). Hispanic protestants tend more towards the GOP than Hispanic Catholics.
South Korea is building a 364-foot statue of Voltar the Invincible to go in their Robot Land theme park because why now?
What a neat idea: using remote controlled robots to let people look at museum art after hours.
Robots saved Pittsburgh.
Will Doc Shock become a thing? People don't like narrow networks, but they could be a crucial to cost control. Truly, the enemy of true health care reform is us.
About the Author
If you are interested in subscribing to new post notifications,
please enter your email address on this page.