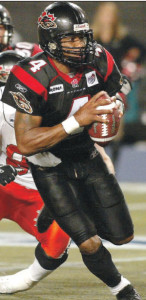 Ottawa's new CFL team is to be called the RedBlacks.
My first observation is how terrible we have become at naming teams. There's really no excuse for it. At the college level a number of schools have had to find new mascots because the old ones were Indian-related. Those names have been utterly bland: Red Wolves, Warhawks, Mustangs, Warriors, etc. Warhawks is okay, but the rest stink (and Warhawks is like the Redhawks replacement that too many other Indian-mascotted teams chose. Schools, though, should work on having more unique mascots. Some of the newer schools do (Grand Canyon Aardvarks, UC-Irvine Anteaters, UTSA Roadrunners) At the professional level, there seems to be a choice between the bland (NFL, except the Ravens) or obnoxious (NBA, expansion before last).
So along those lines, hooray for Ottawa which chose a name that is (a) unique and (b) a plural noun. Even if I have no idea what a RedBlack is supposed to be. And think innercaps are stupid. And kind of wonder why they didn't go with their previous franchise name.
Which brings me to the other question, which is why they're putting a team back in Ottawa when they have twice failed there. I mean, two NFL teams have left Los Angeles but no doubt the NFL will land another team there again at some point, but that's Los Angeles. Ottawa is Ottawa. The nation's capital, with a population just shy of that of Grand Rapids, Michigan, or Birmingham, Alabama. Of course, this is the CFL where the population demands are less stringent. Regina has a population of Prescott, Arizona. Where? Exactly. Maybe you've heard of Idaho Falls, which is about in the same ballpark. No? Burlington, Vermont then. Presumably, the entire province of Saskatchewan has their back, though, so that's a population of El Paso.
Canada is kind of weird.
My big question is why not expand into the markets in the United States. They tried that, though, and it was an abysmal failure. Even so, I wonder if they might reconsider with the following stipulations: Northern cities only[1], cities without any professional teams[2], and expand one at a time[3]. It seems possible that some northern cities might feel more a "part" of something called the Canadian Football League and be more likely to embrace that team. It would also keep travel expenses down and help keep east-west alignment rather than the creation of a "south" division. The second thing would be taking a page out of the NBA, which has had success with numerous franchises in towns where there is little competition.
In an age where cable networks are looking for content, I think there's a decent chance that things could go better this time around.
The divisions within the CFL are a bit of an issue. One which having a team in Ottawa actually solves. With only eight teams, they have to have four teams in each division. That means separating Winnipeg and Saskatchewan who are rivals. Adding Ottawa means that Winnipeg can go back to the western division. Of course, that creates a bit of a problem for my designs on CFL expansion as a number of decent candidates are in the west.
Boise, Idaho is one of the first places I would look. Not only is there no professional team in Boise, there are not any nearby. The only two problems are that (a) Boise is in the west and (b) the Boise State Broncos.
Though Portland, Oregon breaks the "no other sports team" rule, it is nonetheless worth considering. Unlike Boise, there's no significant college team in Portland. The primary competition would be the Ducks and Beavers of college ball.
Another consideration would be Spokane, Washington. Spokane roots for the Seahawks, but is a significant city in its own right. The only other issue (besides being in the west) is Washington State, which isn't too far away. They presently have an Arena team, so you'd have to wait for that to pass before considering Spokane.
That's the west. What's available in the east?
The candidate that most comes to mind is Portland, Maine. No NFL team. Not even a college team. It's Patriots Country, though. But they have never had a professional sports team of any sort. On the other hand, maybe there's a reason for that.
Really, most of the other places in the east have serious NFL competition even if there is no team in their city. Grand Rapids has the Lions, Fort Wayne has the Colts. Milwaukee has the Packers (and an Arena team for now). Columbus has the Buckeyes. Des Moines has easy access to two college teams plus are a perpetual site for Arena League teams. Sioux Falls could be put in the east division, but is not much larger than Regina and is smaller than Halifax, the largest Canadian city without a team (other than Ottawa).
But between all of these options I would think that there would be a city or two that's not too far removed from Canada. The attendance requirements in the CFL are not all that great. You only need about 30,000 people to show up, and you're doing pretty well. And with TV content at a premium, I'd think that the money would be there for more teams and more games.
Unlike my other idea[4], I think it could be a financial winner.
[1] Previous CFL sites included Birmingham, Sacramento, Shreveport, Las Vegas, San Antonio, and Memphis.
[2] Of the above, half had teams in other leagues. Now it's just Shreveport and Birmingham that don't. Never, ever put a football team in Birmingham. The CFL is lucky it survived. Every other league that's put a team in that city folded quickly. Why did the original Arena League last so long? They never put a team in Birmingham, that's why.
[3] After early success in Sacramento, the CFL expanded everywhere at once.
[4] That would be dismantling the playoffs. Because playoffs ruin everything.
About the Author
If you are interested in subscribing to new post notifications,
please enter your email address on this page.