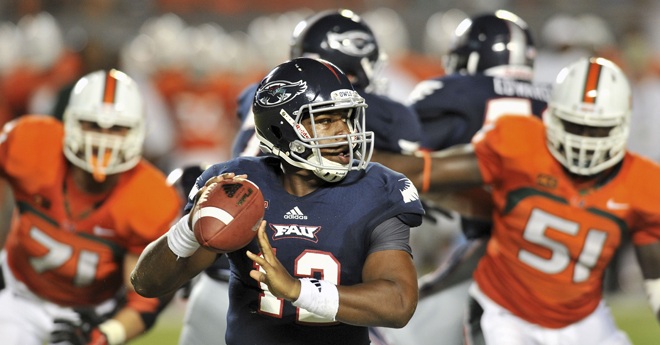 You know what I miss? I miss the old days when I could tell which teams were playing – and which team was which – by looking at their uniforms. When Major League Baseball started having throwback jerseys and special jerseys every other game, I likened it to the alternate GI Joe figures that Hasbro would release. That's Regular Duke, and that's Night Stalker Duke! That's the Atlanta Braves uniform, but that over there is the Atlanta Braves Night-Stalker uniform. The rationale was pretty obvious: it let them sell more jerseys. College football has gone the same route with so many special jerseys and alternate jerseys and night-stalker jerseys, half of them don't even have actual jerseys anymore. Unlike professional baseball, there's not really merchandising money to be made. From what I understand, it's good for the recruits. Me? I prefer uniforms to represent brands and thus have some consistency.
Something I have never seen before: When Miami (FL) played Florida Atlantic, both of them wore their colored jerseys. Neither of them wore white. I thought there were rules against that. Clancy always objects when two teams are too similar in colors. I tell them that they can't just change colors every game (Who am I kidding? See above) but that the way to tell the teams apart is that one of them is wearing white jerseys. Of course, that can get confusing when you have teams like UCF and Georgia Tech whose "dark" jersey is actually a gold color. In that sense, I've seen games where both teams are wearing light jerseys. This is the first for dark jerseys. I wonder why?
The American Athletic Conference is off to a bad start. Connecticut lost to FCS team Towson right off the bad. Which is bad. But Towson is a really good FCS team and it was close. South Florida, on the other hand, was destroyed by McNeese, which wasn't even ranked. The final score was 53-21 and it wasn't as close as the score would indicate. Against FCS opponents, AmCon went 1-2 with Houston's victory over Southern as their only win.
The Big 12 had its own problems, going 2-2 against FCS programs. Kansas State lost to North Dakota State (24-21) and Iowa State lost to Northern Iowa (28-20). West Virginia only barely beat William & Mary (21-14). The only clear victory the Big 12 had against teams from the lower subdivision was Baylor's defeat of Wofford (69-3).
Meanwhile, two FCS powerhouses played one another in the opening week: Montana and Appalachian State. They talked about the fact that Appa State is going to be making the transition to FBS into the lowly Sun Belt. Being FCS announcers, they were of course lamenting the decision. Mostly because it's becoming a problem for the FCS as they lose more and more of their good programs to the FCS. I lamented it to, though not for precisely the same reason. Appalachian State is a much better fit for FCS than FBS. But I was also lamenting the fact that it was the wrong program making the transition. I still lament the WAC that never was.
In what was the worst call I have seen in a college game occurred between Marshall and Miami of Ohio. Marshall won 52-14, but it really should have been 59-7. In what was clearly a pass, reception, fumble, and return 80 yards for a touchdown… they decided was an incomplete pass. There was no video support. What I suspect happened is that the refs blew the play dead prematurely and the easiest way for them to avoid saying "our screwup cost Marshall a touchdown" is "there was no complete pass." The result was a 14-7 game became 14-14 (after Miami went on to score a touchdown) instead of 21-7.
Last year, the Texas State Bobcats stunned the Houston Cougars in the season opener, which was Texas State's first game at the FBS level. Given the season that Texas State had, which wasn't good, it could be written off as a fluke. Except they opened this season beating Southern Miss. While Texas State's rival, UTSA, was invited to Conference USA, Texas State was relegated to replacing North Texas in the Sun Belt. That may be a good thing for Conference USA, which they would probably dominate the conference.
About the Author
If you are interested in subscribing to new post notifications,
please enter your email address on this page.