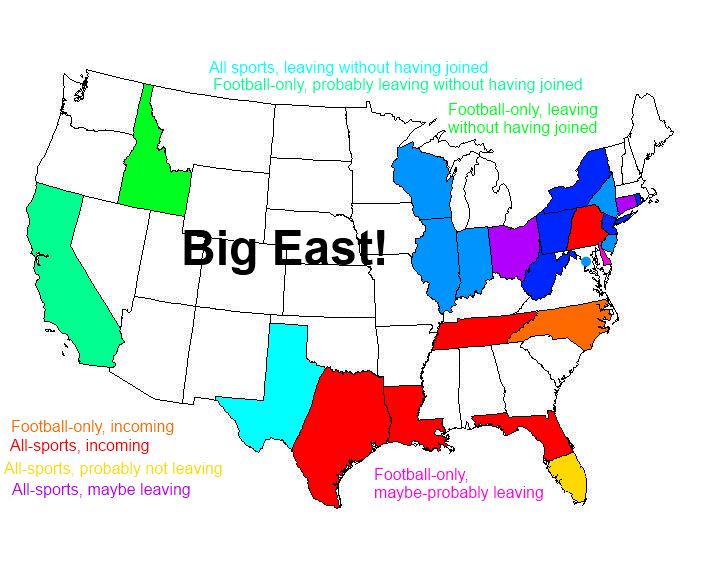 Sometimes, I really just don't understand sports media. Particularly when it comes to college sports. I guess sometimes they need things to write about, but even when they write about frivolous things, they write about unlikely ones. Over the past few months, there has been a lot of talk about the Big East Conference being "on life support" or similarly dire terms. Now, competitively, the Big East will be a far cry from what it was the last several seasons (in my opinion, the most under-rated football conference in the country). But there is almost no reason why we should think it even a possibility that the Big East disbands and the schools slated to join the conference scramble for a home or come back from whence they came.
To recap: TCU left before it ever actually joined. West Virginia has left. Louisville, Pitt, Syracuse, and Rutgers are leaving. The eight Catholic non-football schools are leaving. That leaves only Cincinnati, Connecticut, and South Florida as continuous members along with Temple, who joined this past season*. SMU, Houston, Memphis, Tulane, East Carolina**, and Central Florida are slated to join. Boise State*** was slated to join, but has decided to remain in the Mountain West Conference. In the coming weeks, San Diego State*** is likely to make the same decision. Navy*** is also supposed to join in a few years, but I'd be surprised if Navy didn't reconsider as well.
If you can follow that, it paints a pretty sour picture. Granted, Cincinnati and Connecticut are very competitive within the conference (and also, basketball!). But there is a decent chance they will be leaving, too. That would leave the mediocre South Florida as the sole continuous member of the conference. For the sake of this post, let's assume that happens (because if it doesn't my skepticism towards the non-viability of the Big East becomes much, much more warranted).
So that would leave SMU, Houston, Tulane, Memphis, East Carolina, Central Florida, South Florida, and Temple. With the exception of the first two, there is little talk of those schools being invited to a better conference. in the case of Houston and SMU, there has been loose talk about them joining Boise State and San Diego State in the Mountain West Conference. This is unlikely but represents one of the few genuine threats to the conference's viability.
People look at these eight teams and think how much worse it is than the Big East has historically been. That's why they use terms like "life support." However, for the constituent schools, with the possible Houston/SMU exception, it represents the best conference they can join and a better conference than the one they left. There were five top performing schools in Conference USA – their present league – and three of them are a part of the package. Tulsa, number four, would absolutely accept an invitation to the Big East tomorrow if issued an invite. The situation for Southern Miss (#5) is more complicated. Because of their weak financial position, they might not be able to afford it.
Meanwhile, they are leaving behind a lot of excess baggage. And with the possible exception of Southern Miss, anybody they don't want to leave behind can be invited at a moment's notice.
Conference USA, the place where most of the teams would return to (all but Temple are former members), is simply not an attractive option. Houston and SMU have been replaced by North Texas and UTSA. Central Florida has been replaced by Florida International and Florida Atlantic. Because of this, a return would mean conference congestion in Texas (six teams) and Florida (four). As a general rule, schools don't want too much in-state rivalry because they want to separate themselves in terms of recruiting and prestige. SMU doesn't want to play sibling to North Texas. South Florida doesn't want to play sibling to Florida Atlantic. So these schools will move heaven and earth not to resign themselves to that fate.
I would say that even if Houston and SMU were to go west, and even if they took Tulsa and another school out of consideration for the Big East, they'd still stick together rather than scramble to get back into their old conference. Replace Houston and SMU with some combination of Rice, North Texas, and UTSA and keep on trucking. The only reservation I have about this is East Carolina. They still haven't issued ECU (the only school in the lot to bring more than 50,000 fans to each football game, as well as one of the best schools in the present Conference USA) an all-sports invitation. And Conference USA went out of their way to bring in schools that ECU wanted (bucking the general rule, East Carolina actually wanted teams in closer proximity and that's what they got). If they were to high-tail it back to Conference USA, that would bode ill.
But that's unlikely, if the members keep a level head, for two reasons. First, because it continues to represent an opportunity to "clean house" and end up with a conference that replaces the two least desirable members of Conference USA with Temple and South Florida. Second, because they are sitting on a huge pile of cash. With the exception of seven of the eight Catholic schools and San Diego State, every departing member is paying an exit fee and they are substantial. If pressed, they can buy Southern Miss's admission into the conference with that money. And it gives them enough money to set up camp and relax about the present lack of a TV contract.
Now, I'd be remiss if I did not mention the two scenarios in which I could be wrong.
First, if Cincinnati and Connecticut get ACC invites, it's possible that they have a window where they can turn off the lights on their way out. It takes 2/3 of the conference to vote for dissolution and that represents two of the three current all-sport members (South Florida). However, Temple is a member as well and it's unclear whether or not they have a vote. There is also a good chance that they can be persuaded not to kill the conference with a carrot ("we'll waive the exit fee for you two") and stick ("We will go to court over this"). Given that the incoming teams joined the conference in good faith and are materially harmed by dissolution, it would strike me as unlikely that they would have no case in the event that the conference is needlessly killed.
Second, if the ACC gets absolutely plundered. If the Big 12 goes to 18, for instance (two divisions of 9 with a majority of the ACC), of some combination of Big 12, Big Ten, and SEC pilfering of the ACC to a total number of more than four schools. If the ACC loses both Florida schools, then South Florida and Central Florida are in play. That, in turn, would make the conference substantially less appealing to several members. Possibly to the point that it's less appealing than returning to Conference USA or heading west would be. If the ACC loses eight, then you are likely to see a near-merger between the ACC and Big East, with less than a handful of schools remaining and very little leverage to tempt anyone away from Conference USA. But this would require more than just the Big Ten and SEC going to 16. If they lose four, the ACC can rebound with just two in order to get back to 12. So both of those would have to happen and the Big 12 would need to expand into the region.
A lot of people are rooting for the Big East's demise and have been for some time. The conceptually problematic additions of Boise State and San Diego State (and to a lesser extent Houston and SMU, and TCU before those two) only added to the whiff of desperation of something that must be critically ill in some way or another. But with Boise State and San Diego State gone, the geographic blueprint is no larger than that of the old Conference USA and is smaller than that of the Mountain West Conference. And, as underwhelming as the conference looks compared to how it looked a year or two ago, it's still better than the alternative for most of its constituent schools.
* – Temple is presently only a football member, but all sports will be joining starting next season.
** – East Carolina is presently slated to join as football-only, but a full-sport invitation may be in its future.
*** – Navy, Boise State, and San Diego State were/are slated to join as football-only.
About the Author
If you are interested in subscribing to new post notifications,
please enter your email address on this page.