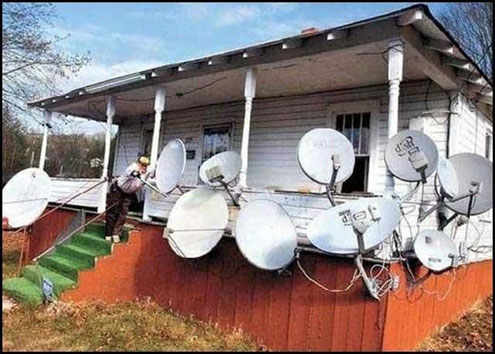 The SOPA protests represented a rivalry between northern and southern California, movies and technology. Good for them, because heaven help us if they start really working together. There was a movie some time back called Anti-Trust, with Tim Robbins as a Bill Gates figure. The moral of the story was that software-for-profit was wrong and that "information wants to be free." Well… what about movies? Do they want to be free? If not, why not? It was best, in the context of this movie, not to ask that question.
Also, a look at modern media piracy and its actual effects. I have always found the claim that piracy enables crime syndicates to be odd. If anything, the opposite is true, because, as this points out, they can't compete with free any more than the studios can. Less so, since a lot of people will feel better buying legit copies. If you're going to go illegit, why pay for it?
Kodak has filed for bankrupcy. Its future is in doubt, but it does have some patent revenue streams. They also are looking at doubling down on printing. Which is a brilliant place to go as we move to a paperless society. Should we ever meet, valued commenters, buy me a drink and I will tell you about my professional dealings with Kodak. In addition to the whole film thing, they are one of the most toxic corporations I have ever seen (and I have seen some doozies).
Apple is looking at getting into the textbook business. But who is going to pay for it? This is beyond the scope of what we usually ask teachers to supply. Personally, I think this is something that Amazon should be doing. They'd be more price-conscious. Either way, though, I do wonder how they're going to get around the Americans with Disabilities Act, which has fought Kindle readers for being insufficiently friendly to the blind. Tablets are only going to be moreso.
Speaking of Apple and iBooks, their EULA is really quite disturbing. I mean, more than most EULA's.
Again… the problem with news organizations "fact-checking." Facts, in order to become (useful) information, require context. Context is open to interpretation. Therefore, "ObamaCare is Socialism" and "Republicans voted to end Medicare" ended up as Lies of the Year. Neither were lies. Both were subjective subjective judgments that we either agree with or disagree with.
Norway authorities took away an Indian couple's kids for "feeding them wrong." What happens when the Nanny State meets Multiculturalism.
The St. Louis Rams are going to be playing some games in London. Costa Tsiokas thinks that this may be a prelude to relocating the team back to Los Angeles (hurting their ticket sales). I don't know about that, but the article goes on to mention that there is a fan club for the New England Patriots out there (the Patriots have also played in the UK). Does anyone else get a kick out of the irony of Brits rooting for a team called the New England Patriots with a colonial captain on their helmet?
A French diet guru wants to grade people on their weight. Using BMI. Sigh.
A look at the 1% and what they majored in. I actually do find it quite surprising that nearly 1 in 20 history majors become 1%ers. Almost 1 in 10 economics majors is less surprising. One imagines that it's still not a good idea to go to North By Northeast State U and major in history, though. One imagines that a history major that becomes a 1% was bound for there regardless of what they majored in. Still: surprising.
A look at the DEA and the Adderall Shortage.
South America deserves an aware for finding a use for mimes.
About the Author
If you are interested in subscribing to new post notifications,
please enter your email address on this page.