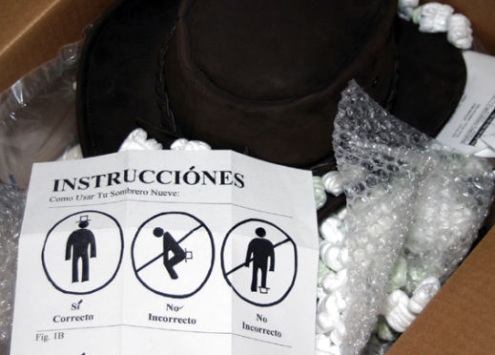 It raises my hackles when I see a title "The PC is dying" even when followed by "but very, very slowly." No, the PC is not dying. It will probably never die. It will simply become a device for certain kinds of productivity tasks. Not all devices need to be portable. What's ironic is that the whole "cloud computing" thing which has been right around the corner since I was in college but is only now coming to fruition, is something that makes having a desktop in addition to a portable device more easy. I say "ironically" because it's the same techie tastemakers who have been pumping cloud computing who are also pumping the Death of the PC.
Richard Florida, not known for having anything but disdain for anywhere but hip coastal places, puts his prejudices aside and writes a good piece on the rise of the high-tech south.
Happiness looks good on a woman, but not on a man. I actually find this a little puzzling, because giving off an aura of happiness seemed to help me socially, with both genders. Then again, maybe it was just the absence of gloominess. Or alternately, the happiness came off as pride, which looks good on a man and bad on a woman.
Lecturers Against Online Learning. I understand some of the concerns, but as long as we're encouraging everybody to go to college and we're charging so much for the privilege, we have to find more economical ways to deliver the product.
Felix Salmon makes the case that we should abolish the 30 year fixed rate mortgage. It's kind of funny (not "ha ha funny"), but it wasn't long ago that everybody thought that these things were the best thing ever, especially when combined with No Prepayment Penalty. It turns out that it played a significant role in all that transpired in the housing market. When interest rates fluctuate, fixed-rate mortgages is all-upside for the consumer. If interest rates go down, they can refinance, if they go up, the bank is stuck.
When we talk about American car companies, we're still talking about truck companies.
Why so many cars are white and silver. As someone for whom white and silver are my least favorite car colors, I always wondered about this. I thought it was because it was cheaper. It turns out it's because it allows them to do some enticing stuff with the paint. I still don't understand why gleamy silver is better than a real color, even if not in a gleamy shade.
It's common in the US for people who are waaaay up the economic chain (and some who are down it) to claim or see themselves as being "in the middle." It turns out, it's not just an American thing.
Why funny TV commercials work.
About the Author
If you are interested in subscribing to new post notifications,
please enter your email address on this page.