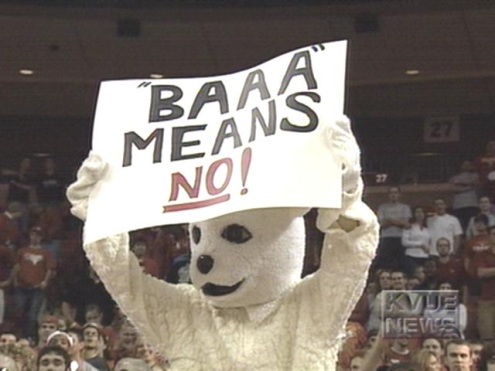 Fingers are pointing everywhere with Bank of America's decision to institute a Debit Card fee. Conservatives are gleefully pointing at Walmart. Presumably, this is an effort to give pause to the (presumably liberal) supports of the law that BoA was responding to. You can make this look "all about Walmart" all you want, but Walmart's deal with the banks was almost certainly more favorable than that of smaller vendors because Walmart commands that sort of leverage. While the bill was not flawless (more on that in a future post), it's easier for me to avoid Big Bad Walmart (if I am so inclined) than for Walmart and Mom & Pop to avoid Visa and Mastercard.
Credit where credit is due: Apple is shifting text-messaging over to data rather than voice lines. A previous Linkluster criticized AT&T for their ridiculous new text-messaging rates and later commented "[T]he savvier users will simply transfer texting from voice to data. […] I expect Android will at some point make it all automatic." Loathe as I am to admit it, Apple got there first.
Chicago Traders put up a sign saying "We are the 1%" Except, of course, they are not. But they identify with the 1% (which isn't what it used to be) because they work for the 1%. Which is part of the problem with the whole 99% thing in the first place. Most of them have little in common and a lot of them hate each other.
Here's a neat calculator where you can find out what percent (of household incomes) you are in. It turns out that last year, Clancy and I fell outside the top 10%. So I am the 90%. Time to go after the other 10%!
This is one of the things I find really irritating about NCAA realignment: According to a report, Connecticut was originally supposed to join the ACC but were blocked by neighboring Boston College, who didn't want another New England team. I don't really care about either school (Connecticut had apparently tried to keep BC out of the Big East for similar reasons some time before), but hate this sort of thing (looking at Florida and Florida State). The Southwest Conference demonstrated the failure of being too regional, but viewing every nearby college as a threat is simply making things less interesting for everybody else. Regional rivalries are one of the great things about college sports! The NFL and Major League Baseball take great pains to keep neighboring teams apart. That might be good for the franchises in particular (no conflict between rooting for the Angels and Dodgers, so fans can root for both and the cross-town threat is minimized) it would be much cooler if these teams were competing with one another for the division championship.
The "iPhone thieves" have pleaded no-contest.
Did Herman Cain's 9-9-9 plan come from SimCity? That would be hilarious. I always used to use that hack that gave you a bunch of money to work with at the expense of a major earthquake. Back at the beginning of the game, you let off a bunch of earthquakes and get things started. Use that money to finance a *lot* of fire departments, and you come out way ahead. I don't think that we can do something like that in the real world.
Better buy your peanut butter now, because prices are about to skyrocket.
I had a guest-post on Mindless Diversions about GraphicAudio, for those of you who might like your comic books in audio form. Here was the follow-up.
About the Author
If you are interested in subscribing to new post notifications,
please enter your email address on this page.