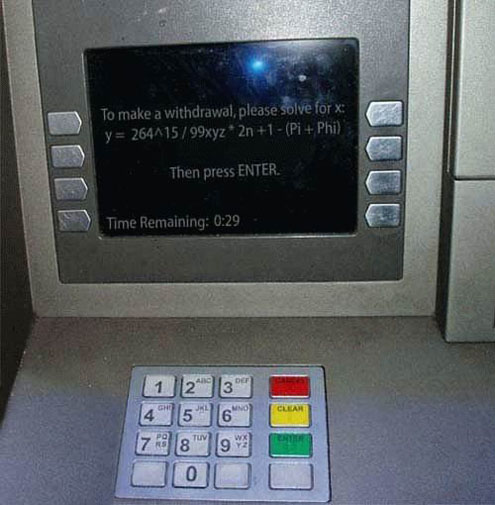 A couple of things to file away next time someone talks about how the banks are foreclosing people out of sheer cruelty when they could actually lose less money with refinancing. If that were true, in all likelihood banks would be doing it. The problem is that refinancing simply kicks the can down the curb, as often as not, and arguably ends up worse for the borrower. At the end of the day, the problem is that somebody is sitting on a house that they cannot afford. Maybe because they bought too much house (maybe they were encouraged to by the lender), maybe because they lost their job. But you can't make that problem just go away.
Save a life, chip a tooth, end up in court.
I wish I'd seen this video when I was in grade school. The delineation of continents drove me crazy even then.
Americans love chain stores.
The franchise novelists. How James Patterson is making a fortune simply attaching his name to novels. Tom Clancy is known for it as well. It's a good gig, if you can get it! Generally speaking, if you see an apostrophe-s after the name, they didn't didn't write it. If it's Red October, it'll say Tom Clancy. If it's Netforce, it'll say Tom Clancy's.
Most teachers would exchange job security for salary increases.
Critics of education reform hate standardized tests (though frequently cite them when they can as proof that charter schools don't do any good). But even if you look at the metrics we're "supposed to be" looking at, charter schools do well, according to one report.
Sweden has the most progressive tax system and some of the worst wealth inequality. This is one of the reason I am unimpressed when some wealthy dude talks about how we need to raise taxes on the wealthy. They've already made their money. That doesn't mean that progressive taxation isn't a good idea. Merely that the spokesman's moral authority can be lost.
Is the college admissions process as we know it about to end? I'm rather skeptical. There are too many intangibles involve and reality has a tendency to sometimes intrude. A college selection program I played in the 90's suggested a bunch of expensive private schools for me. I would have been miserable. My parents wouldn't have sent me there to begin with. And, of course, for some the problem is and remains that "not enough people are going to college." Lastly, colleges are punishing families for being financially responsible.
About the Author
If you are interested in subscribing to new post notifications,
please enter your email address on this page.