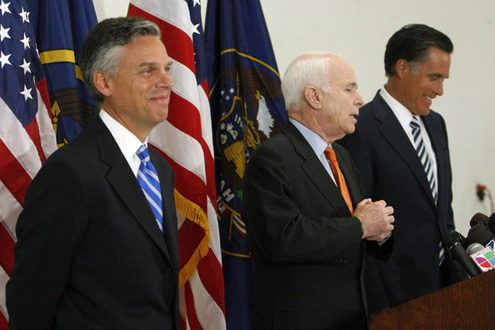 Jon Huntsman attacks China's One Child policy, saying it causes instability and sex trafficking. It's interesting how, a couple of years ago I completely misread Huntsman. When he took the China Ambassadorship, I assumed that it meant two things: (1) He had decided not to run for president, which he had already been considering at the time, and (2) he was, in essence, cashing out. An ambassadorship to China can be very lucrative in the long run, especially to someone who speaks Chinese. And yet, here he is running against Obama and potentially burning his bridge to China.
I have to wonder if there's something more going on in the Romney/Huntsman rivalry than mere political positioning. Huntsman has to know that he's not going to get the nomination by picking off Romney support. Both come from very old and established Mormon families. Perhaps the writer in me likes to think that it's a War of the Roses sort of thing, where Huntsman's quest isn't quixotic so much as a good Hatfield trying to settle some old score with a McCoy. The town of Phillippi in Delosa had this dynamic. You had two patriarchs (both white, conservative-ish Democrats) who repeatedly traded the mayorship every 4 or 8 years for about twenty or so years. One of them died and the the other moved on to another elected position (becoming a Republican in the process), but even after all of that each of the families continued to recruit people (sometimes family members, sometimes outsiders) to run so that there was always a Hatfield candidate and a McCoy candidate. You always know who won because they would rename the Phillippi Fairgrounds whenever they took office to either the Hatfield Fairgrounds (he founded it) or Phillippi Fairgrounds (to prevent Hatfield credit for getting it done).
For David Alexander: High-speed rail lines rarely pay their way. Britain's government should ditch its plan to build one.
As amazing as it sounds, we may already be losing the housing surplus. Meanwhile, homes in Baltimore are selling for $10,000 and less.
California prisons are isolating inmates for years at a time. The deleterious effects are hard to fully state. It's not hard to make the case that this is a passive form of torture.
It's commonly argued that high-stakes testing is killing arts and music programs. It really doesn't appear to be the case outside of isolated incidents and Arizona. The Redstone district has a music and an art teacher with weekly classes for each. That's exactly what I had. The main difference: We had PE daily. They get it once or twice a week.
Statistics on country music (references to mama, booze, etc.). One of the odd things about country music, the "conservative" genre, is how often men cry about being women and women cry about being strong.
A while back, Conor Friedersdorf explored why the media has been paying so much attention to Huntsman and so little attention to the likes of Ron Paul and Gary Johnson, given their respective poll numbers. I would dispute that the media hasn't been paying attention to Ron Paul. More like, the media simply isn't taking him seriously, compared even to Michelle Bachmann whose chances of winning the presidency were always roughly the same (roughly 0%). Now Gary Johnson they are ignoring. Why? I think Friedersdorf is right that Huntsman tells the media what they want to hear, but I think it goes beyond that. Huntsman fits a John Anderson mold. Bachmann fits the new Tea Party mold. Johnson and, to a lesser extent Ron Paul, don't fit the recognizable pattern. So they treat the former like he doesn't exist and the latter like a Lyndon LaRouche who simply polls better.
About the Author
If you are interested in subscribing to new post notifications,
please enter your email address on this page.