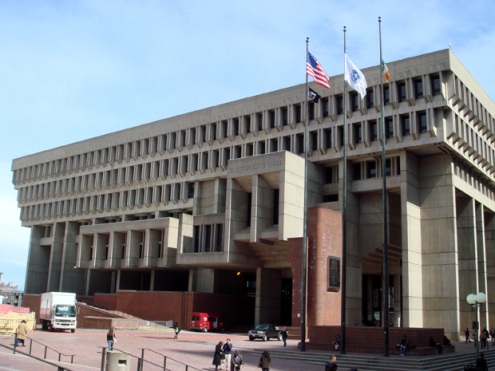 The above picture is of Boston's City Hall, which is apparently linked to "Brutalist" architecture. Am I the only one that thinks that it actually looks really, really cool? Apparently, I am.
Farhad Manjoo wrote about how Netflix is killing piracy. I think that there is some truth to this. I know that in the music world, it used to be that if you wanted to "try before you buy" you had to just download the song if you weren't going to a record store, but Rhapsody completely obviated the need for it. Given how much space they take up, and really, given how much out there that there is to watch, downloading movies for many is as much a rental as anything. Netflix is just easier.
10 PC Myths from Movies and Television. The (instaneous) photo imaging blow-up bugs me, too. I think they're a little off-base about Apple. I'm pretty sure Apple is paying for that. The PC makers typically do not, though sometimes you will see a generic one with a Windows logo, which I assume Microsoft is paying for. Every now and again I see them using a Thinkpad, but the logo is nowhere to be found.
Citing this map, someone tweeter that Mormons do not get headlice. I will point out that the only time in our marriage that either of us got headlice was in Deseret.
Cracked: 5 Pro-Marijuana Arguments That Aren't Helping. The disingenuousness of the arguments put forth for this worthy cause can be very offputting.
More anti-cop fodder. Though cops always say that you can drive until you get to a well-lit place to pull over, they might punish you for doing so. In Missouri, a woman is ordered out of her car at gunpoint and handcuffed despite the car with the flashing lights being unmarked. The police car in Minnesota was at least marked, but after a very low-speed chase with a signalling minivan, the car was rammed twice as it was coming to a stop.
A look at the Army's task of choosing a battle-ready cell phone. This is one contract I am not worried about Apple getting.
In defense of antidepressants.
About the Author
If you are interested in subscribing to new post notifications,
please enter your email address on this page.