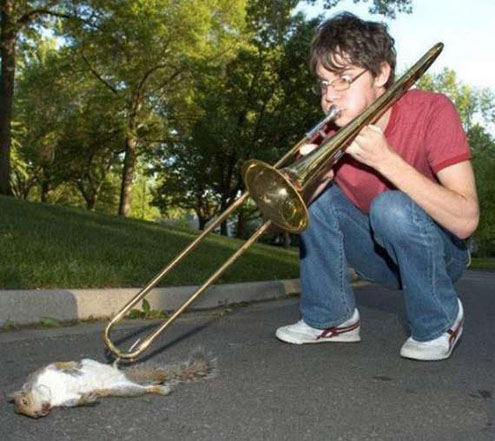 A bizarre and unfortunate story of a Westpoint man that went from being a cornerback for the Black Knights to being demoted and deployed due to a confrontation with Patti LaBelle. The Westpoint kid is suing, LaBelle is suing back.
Macross Plus comes to life. Macross Plus is an anime where the major pop star of the day is an AI robot named Sharon Apple. Perhaps the best take on it came from a Facebook friend: "It's not so much that they made the computer image look real, it's that they're trying to make the real girls look faker, so the Idoru doesn't stand out."
How can this surprise anyone? There are a lot of reasons that the south has a bigger obesity problem than the rest of the country. But it's not entirely related to the heat!
Louisiana almost made littering an impoundable offense. It failed in the state house after clearing the senate by a near-unanimous vote. Astonishing. Even for Louisiana.
News of the Weird from a few weeks ago. Identical twin pastors die within hours of one another on the same day, at the same hospital.
A man in Utah was fined for trying to pay a $140 bill with pennies. It's reminiscent of a man cuffed and arrested at Best Buy for wanting to pay with $2 bills.
This is a particularly weak argument against legalizing drugs. I'm not even sold on decriminalization (outside of pot), but come on. The end of prohibition didn't destroy the mafia, but it made the mafia something that could be fought.
There's apparently a documentary about the infamous McDonald's coffee lawsuit. It's called Hot Coffee, which makes me wonder if I will get any typo traffic. The film is coming strictly from the pro-litigation point of view, so there's some pushback, pointing out that they're not exactly telling the whole story. I don't begrudge the lady her money. Or even the industrious lawyer(s). She suffered for her money and the lawyers played the game and they won. What kind of pisses me off, though, is how difficult it is to actually get a hot cup of coffee these days. The lawyers involved in the case say that anything that can quickly burn you is too hot.
Our cultural fascination with Camelot. As I've been diving into Game of Thrones, it reminds me of the love I had of the Arthurian legend. Nobody understood why I hated the Sean Connery movie that came out. Because it wasn't King Arthur! Not in any meaningful sense.
About the Author
If you are interested in subscribing to new post notifications,
please enter your email address on this page.