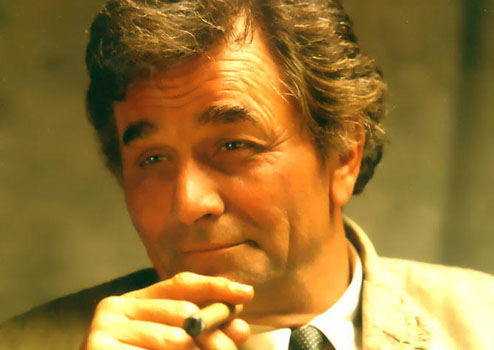 RIP, Peter Falk. Columbo was an early favorite of mine. Though he's an Italian-American in Los Angeles, the stealth intelligence hidden under self-deprecation makes me think of southerners. It's kind of odd that they seem to be remaking everything, but not really Columbo. I guess it goes back to the ad campaign they had when they relaunched in the 90's, showing various actors of the day (Mark Lynn-Baker, Fred Savage) wearing The Coat, saying "There's just one… Columbo." If they relaunched it, I wonder whom they would get to play the role. They'd probably screw it up, mixing some action, gunplay, and martial arts in there.
After France stuck by nuclear power, I decided to declare a moratorium on making fun of them. The moratorium is now lifted.
With USC having vacated the title, there is the natural question of who should get it. Oklahoma's Bob Stoops says that he isn't asking for it. Well. Nobody's offering it. 55-19, the Sooners lost to the Trojans by. Texas Tech's Tommy Tuberville argues that it should go to Auburn, which he coached at the time. The argument there is much stronger. Vacating titles is lame, but if you're going to do it, it should go to the next team down the list. Another candidate would be Utah. But Utah's coach at the time was Urban Meyer, who likely doesn't give a rip about yet another one of those. Besides, after he left Utah (and spent time complaining there about how his team wasn't taken seriously), he went on the record as saying that non-BCS teams should not be considered for championships. The BCS has basically said that they're not going to give the title to anyone else.
I got a kick out of this story. Of course BeautifulPeople.com has the right to exclude whomever they like, and of course the Shrek virus was wrong… but still.
Our postal problems may be more severe, but Canada's are more immediate.
The new rule is, we pass at the pleasure of security. Even if you're elderly and presumably wealthy tourists.
The fact that this raid was not about failure to pay student loans makes it a little less odious, but only a little. White collar crimes simply do not warrant the SWAT treatment.
Unexpectedly, we're driving less. My first thought was that this was economic (fewer jobs to drive to), but that would show up before a recession and after, but so much between 2010 and 2011, both of which were the pits. Meanwhile, autotaxis now legal in Nevada!
A man was charged with a $275 fine for helping clear out tornado damage. Such vigilantism must be punished, of course.
An interesting chart of men of different heights and sizes. Having been some of the heights and weights listed, I can say that some of them are misleading.
About the Author
If you are interested in subscribing to new post notifications,
please enter your email address on this page.