A reminder that I came up in the 80's…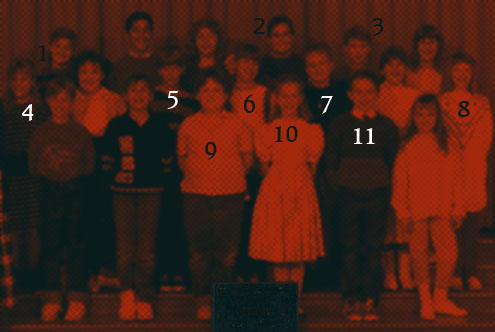 I didn't say *my* 4th grade class. Even so, this was another class in my school, so I knew a lot of the kids because I was in the same class as them in earlier grades or the 5th grade. This picture will not be up for very long and will be replaced with an obscured one.
1 – Lived down the street from me. Disappeared from our school system at some point not long after this picture was taken (in fact, I could have sworn she had been gone by the 4th grade). She later died of a drug overdose.
2 – One of my best friends through parts of middle school. Then we went on different trajectories. He got a girlfriend pregnant almost immediately after high school and never went to college.
3 – I knew him quite well growing up, then at some point he just turned. He dropped out of high school and did a stint in prison.
4 – My family was close to her family and I've written about her on this blog before. She moved to Deseret and became part of some strange religion that required that she change her name. She was pregnant by 19 and had another kid by 21. While pregnant with her second, she cut off all ties to her family. She had one brother who ended up in Cascadia. He, too, severed all ties with his parents. It's really weird, because their parents (who used to sit us often) seemed like great folks.
5. I was a horrible, horrible friend to this kid. I don't even want to recount what exactly I did, but it ruined him socially. He must have known. Yet, years later, sent a Facebook friend request and we've chatted. If his Facebook info is to be believed, he has done unbelievably well for himself.
6. Remember that girl I posted about who married the guy several leagues below her? For those of you who don't remember, she's an MD now.
7. Is female. Even today, looks a little bit like a guy in drag.
8. Went to the prom with a guy who turned out to be gay. It should have been the first clue. She was gorgeous and he was utterly uninterested in her all night long. She was pissed, but they're Facebook friends now, so I guess she got over it.
9. Graduated college at age 20, got two masters degrees and a PhD. Is a statistical analyst for a major insurance company. Four kids. Writes zombie fiction.
10. I was often confused with her brother, who was decidedly unpopular.
11. He left after the 4th grade, I think. He and I were friends, but the guy has the personality of a Monty Card dealer. I hope he ended up in Vegas.
With the exception of the tall brown kid, the boy below #4, and the girl between #7 and #8, I actually don't remember any of the other kids in this picture. Which is rather astonishing to me, because it used to be that I remembered everybody.
About the Author
If you are interested in subscribing to new post notifications,
please enter your email address on this page.