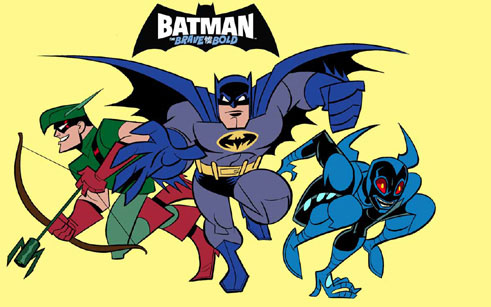 At some point while I wasn't looking, the Cartoon Network canceled Batman: The Brave and the Bold. The basic gyst of the show followed the former comic book by that name, the Batman Plus format. Each episode had Batman teaming up with another hero in the DC Universe. The Batman in this show was notably different from other depictions insofar as Batman was, if not as campy as the Alan West version, far from dark and brooding. As someone that prefers darker interpretations of the character, I had no interest in it. But they had an episode featuring Ted Kord as the Blue Beetle, which I had to see. Ted Kord was, for copyright reasons, banned from television until after the character was killed off in the comic books. So it was my only real chance to see a cartoon version of the character. It turned out that the show was really quite enjoyable. Enjoyable enough that I was able to put my biases regarding Bruce Wayne aside.
They're going to be featuring a new Batman cartoon at some point in the near future, with the more dark interpretation. I, of course, plan on watching it. Their last pre-BTBATB effort, The Batman, was pretty disappointing. It's hard to measure up to The Animated Series, though. BTBATB managed to do so primarily by being so different.
While I enjoyed the show, and lament its passing, I have mixed feelings about certain aspects of it. It was indicative of a larger problem within the Warner Bros. media empire. Namely, it lacked synergy with the comic books. It seems as though DC and WB has gone out of its way to disassociate the two. When Bruce Wayne is starring in a string of successful movies, they take him out of the costume in the comics. They make a super-successful show about Clark Kent, but make it somewhat irreconcilable with the comic books. They have a Birds of Prey TV show… set in a post-apocalyptic Gotham. I'm not saying that what's going on in the comic books ought to correspond with what's going on in the movies and on television, but they should be at least some coordination. The characters in the comic need to be at least somewhat reconcilable and familiar. Otherwise, people watching a movie or a TV show who ventures to pick up a comic book will find themselves reading something entirely different than the product that they enjoyed enough to lead them there in the first place.
Superheroes have never been bigger and yet the comic book market continues to struggle. DC in particular. Some of this is simply due to differences within the companies (DC has a certain progression that Marvel lacks, wherein sidekicks grow up and become heroes and so on). But while Marvel has at least kept its eye on the synergistic ball enough to pitch the comic books in movies, Warner Bros seems to be worried about some sort of anti-trust violation if they so much as mention that a comic book exists. DC did come close to getting it right several years ago with an obvious tie-in to the Batman and Superman animated serials, but didn't do as good a job getting those comic books in non-direct markets (such as convenience stores and pharmacies) as they could have. Or maybe they did try, but never was it mentioned to people watching the cartoon that they could get further adventures in comic book form.
Anyhow, The Brave and the Bold was indicative of this problem. In one sense, it almost transcended it by introducing viewers to characters that they otherwise would never hear about (Red Tornado, the new the Blue Beetle, etc.). But it did so at the expense of the characters that they would see if they went to the nearest comic book shop and picked up Green Lantern, seeing Hal Jordan instead of Guy Gardner. And it featured a Batman unrecognizable in comic form.
As it stands, DC is sitting on over half of the best-known superheroes in comic books today. And yet their sales are dwarfed by Marvel. Some of this is due to Marvel being more in-tune with die-hard collector preferences (more "mature" storylines, more grit, more cavalier treatment of characters) and some of it with Marvel putting out some pretty impressive movies. For years they put out lackluster movies because, until Marvel proved differently, they didn't think it was important that they actually be any good. But they caught up. So maybe they'll figure out the importance of synergy and enhancing the value of their properties rather than simply using them to make a quick buck.
About the Author
If you are interested in subscribing to new post notifications,
please enter your email address on this page.