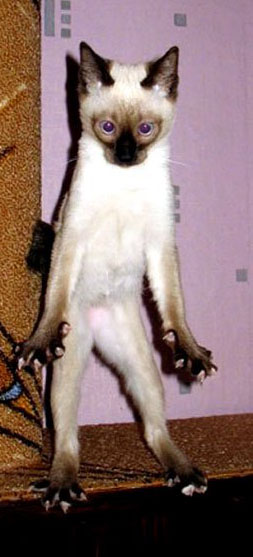 Sleeping with pets can be unhealthy. We don't let the dog upstairs when we go to bed at night. Sometimes I fall asleep downstairs, though I move around too much in my sleep and Lisby would rather sleep on the foot of the sofa than on it.
Green takes green from Los Angeles community colleges. I suppose that most of these plans were put in place before their budget got so tight, but still. Seriously?
No surprise that I would agree with Daniel Engber about leaving the fat kids alone. Particularly noteworthy is the fact that obesity takes the greatest physical toll on those portions of the population where fat is most stigmatized. Not only will they likely fail to lose weight, but the stress may be worse for them than the fat.
Fake tweets by a socialbot fooled hundreds. I actually have a "follower" that I reciprocally followed that I am not sure is actually a person. But "he" provides interesting links, and that's what really matters to me.
The disturbing tale of someone that has apparently perfected the ability to rape without getting caught.
Subaru is releasing its first two-wheel drive car in quite some time. They're teaming up with Toyota (who will be releasing their own variation) for a new sporty sport car. The price on it looks really good, though it dilutes Subaru's North American market niche. Besides, Subaru needs to be worrying about the coming CAFE standards and figuring out how they're going to meet them. If they're going to start releasing 2WD vehicles, it ought to be towards that end. And they need to bring back the Justy.
Men who propose condom use are seen as less romantic.
Slate notes the ten most common fraud scams.
How Americans spend their money (and other nations, too).
Chart: Radiation Dose Chart.
Chart: How to have a rational discussion.
About the Author
If you are interested in subscribing to new post notifications,
please enter your email address on this page.