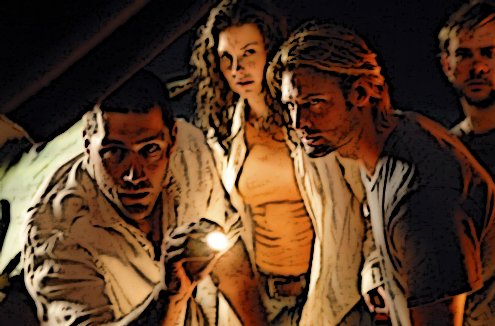 Abel is singing the praises of the TV show Lost.
I feel like a freak whenever this show comes up in conversation. I saw the first half of the first season, and though I found it a bit addicting in an oh-gosh-what-happens-next sort of way, I couldn't find much good to say about it other than that. I dunno… it seems kinda needlessly melodramatic at points – if there is any plot that doesn't need melodrama to be worthwhile, it's one about being stuck on an island with monsters and freaks. The commentary also pinpointed another problem I had… they kept saying that you know everything you need to know about a character in the first bit of their introduction (Shannon painting her nails, Boone trying and failing to help, etc). I like characters that need more explanation. Only Michael seemed particularly interesting to me. I liked Locke, too, but doesn't everybody?
Yet everyone else I know (except Clancy, who holds it in even lower esteem) seems to absolutely love it.
If it comes about that they really start answering questions later on, I will probably watch it all on DVD, but I fear it's going the meandering, destinationless route that X-Files went.
Not to rain on anyone's parade. I think it's totally awesome to be completely captured by a television show.
Out of curiosity, though, Ethan mentioned one character as being a lottery-winner. Which one was it?
About the Author
If you are interested in subscribing to new post notifications,
please enter your email address on this page.