Last week, Web suggested that our government does not have a spending problem but rather a revenue problem. He goes on to point out the vast concentration of wealth among the wealthiest small-percent:
Liberals are often obsessed with keeping taxes highly progressive, but let's face it – the top 1% control more than 42% of the wealth in the US. If you go to the top 5%, then they collectively control 67% of the wealth in the US. Go to the top 10%, and they control 93% of the country's wealth.
I don't disagree with Web that this is problematic. But as Dave later points out, there is a difference between wealth and income. Our federal government taxes the latter. And there are limits to the degree that you can rectify this (in the long, anyway) through tax policy. And it's even more limited that you can use this in order to bridge our current deficit because any year's income is only a part of that huge mass of wealth, and the primary form of wealth taxation we have – the estate tax – raises some money, but not huge amounts*. In preparation for a different post, I created a spreadsheet that looks at overall tax burdens of the top earners using numbers from Citizens for Tax Justice (CTJ).
For the sake of this post, I am going to make a rather key assumption or two that are probably not true but that a lot of people assume is: you can tax income more-or-less directly. You can prevent the wealthy from wiggling out of it with a good tax attorney. By raising overall tax rates, you will not see an increase of people looking for deductions or else you can account for it with heavier tax rates. And these heavier tax rates will not result in people doing less work (and thereby paying less in taxes).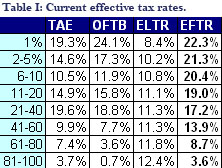 The CTJ numbers are looking at effective tax rates (for households) and not marginal or accumulated tax rates from which many can whittle down their burden through deductions and the like. To the right are the numbers. TAE represents Total Annual Earnings, OFTB represents Overall Federal Tax Burden. ELTR represents effective local and state tax rates. ETR represents Effective Federal Tax Rate. All are represented as percents. On subsequent charts, you will see EFMR, which is the Effective Federal Marginal Rate, and TETB, which is the Total Effective Tax Burden.
As Web points out, our tax system is not particular progressive once you get to the top 20%. Especially when you factor in state and local taxes, which are regressive. But right now we're looking at federal. So if we're concerned about income inequality, and we're concerned about balancing the budget, why not just add more progressiveness to the tax code and take care of both!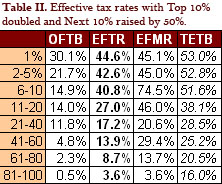 The answer is that the deficit is simply too large. If you were to double the tax rates on the top 1%, you would increase the tax-base by 25%. Now, that's not too bad… but it's a first step. It also means that you're taking over 60 cents on each dollar in the top pseudobracket** if you account for local/state taxes as well. You can extend this downward, but then it starts getting really problematic for people earning money in between the low, existing tax rates, and the higher, new ones. For instance, you can close the entire deficit (almost) by doubling taxes on the top 10% and raising taxes on the next ten percent by 10% by 50%, but now you would be taking over fifty cents on every dollar made over $66,000 (if we include state and local taxes) and almost seventy-five cents of every dollar between $100,000 and $141,000 (after which, marginal rates go down again).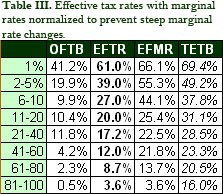 Of course, an odd thing about looking at it this way is that under the previous scenario, marginal rates go down again once you pass $141,000. So let's say we fiddle with ETRs and make it more directly like a graduated income tax. This means tinkering with the bottom 80%, too, because you run into the same bump for the middle quintile, which pays more marginally than either the second or fourth, but I left their overall burden roughly the same. So if we try to restructure it so that nobody pays more per new dollar earned than those in the previous bracket, you can actually come across something that's a little more fair in the broader sense. However, you would still have various governments coming after people for more than fifty cents on the dollar for everything they made over $100,000***. The end result of this is a smoother, very progressive system in which the average dollar over $250,000 has almost seventy-five cents taken from it;. And if you're inclined to cut those between $250k and $1.3m (the average income in the top 1%), you're going to have to take that much more from the top. That may be satisfying on one level, but exactly how much do we want to take from those that earn good money? Under this plan, the top would lose over 2/3 of their (admittedly, very high) income.****
I support a progressive tax code (one more progressive than the code we have now). And as I mentioned on Web's post (and will mention again in a future post), I think that the Truman family's taxes are going to have to go up even if the folks in Washington manage to cut government. Perhaps it's merely a product of suddenly being closer to the income where people start thinking that we have too much money and if we're not turning it into Washington we're essentially hoarding it, but it's seeming unreasonable to take three out of four dollars off the top (if you include the state's cut). The "off the top" does matter, I should add, because I can guarantee you that should something like the above come to pass and the tax burden off of new dollars made reach two-thirds of our income (as it would in the last table), then Clancy and I do start making decisions involving her working less and my not working at all even if more permanent employment does make itself available. And the further down the income line you start the hikes, the higher the marginal rates have to be to make up the difference.
The alternative, here, is to tax wealth itself. Local and state governments do this with the property tax. The federal government does it with the estate tax. I would have to think more about this, though my main concern would be that if it's too high, you run into a situation where people build companies that they can no longer afford because it's an asset being taxed. So they're having to dig into their own pockets just to keep what they've built. So while you could do it (and to an extent, it is already done), I don't know how much revenue you can actually raise from it. Raising the estate tax is another possibility. However, as mentioned in * below, the estate tax doesn't raise all that much revenue. Too few rich people and they don't die with sufficient frequency.
This isn't an argument against raising the taxes on the wealthy (or closing loopholes or whatever). I support the graduated income tax and, as much as we can, targeting taxes to those that can most afford it. But it's not going to end there. My above assumptions, that we can accurately target these taxes, loopholes will not be created and exploited, and that significant numbers of high-earners will simply trade the thirty-five cents on the dollar that they would otherwise get in favor of more leisure time. Ultimately, unless our economy rebounds in spectacular fashion, the tax punch is going to have to go further than the top 10% or even top 20% of earners, spending is going to have to be cut, or we have to start confiscating wealth/assets.
Which is the main problem with looking at how much the top earners are and thinking that we could close the gap just by taxing them more. The problem is that the top 1% only qualifies as 1% of the population. The top 5% as 5. Meanwhile, the middle quintiles constitute 20% of the population a piece. It's hard to look at the deficit without also looking at that third of the national income. And at spending. The current deficit, if it continues*****, is not a problem with a simple solution. Nor is it a problem that will be accomplished without pain, as though we can somehow cut huge amounts of spending that nobody will miss or we will simply be able to tax the other guy.
* – Reinstating the Estate Tax to Clinton-levels (18% after the first million to three, 55% of everything after three million) would raise about $10b a year, or .6% of current spending. You can double or triple that by getting rid of deductions or loopholes, and you're still in the tens of billions and low single-digits.
** – Though this is based on all manner of revenue, for the sake of this data crunching it needed to be simplified. So I'm treating it as a graduated income tax with each bracket beginning after the average income of the previous bracket. Therefore, theoretically, people in the upper half of the 2-5% bracket are getting dinged, too.
*** – This overlooks the distinction between joint and individual filing. Households with more than one potential income get more generous brackets under the current code. There's no reason why this wouldn't also be the case for a restructured rigid tax code. But the main difference is that you'd be going after some below that threshold and others above. But it would even out.
**** – Just as a reminder, this is not a high marginal rate from which they're going to whittle down. Marginal rates were this high when Reagan took office, but even then people did not pay this much in taxes. These are effective tax rates. For all of the deductions we would want to add, we would need to raise the overall rate to be higher enough to compensate.
***** – The Administration's budget estimations in the future have the gap narrowing. However, this based on the assumption of a huge climb in revenue due to an improving economy and the expiration of the Bush Tax Cuts, which would be the first in a series of hikes from current rates.
About the Author
If you are interested in subscribing to new post notifications,
please enter your email address on this page.