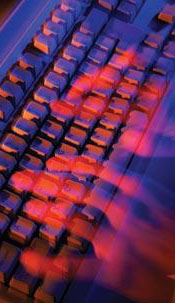 The subject of cheating seems to be coming up here and there. A lot of it pertaining to this article, written by a professional ghostwriter for college papers. Further commentary by Otherwill and Rufus at The League.
Longtime readers of Hit Coffee may remember that once upon a time, I was a ghostwriter for my then-girlfriend Julianne at the college level. She and I took three classes together and she shrugged off all three. The end-result was that I would get upset calls at 2 in the morning from Julianne saying that she hadn't started the paper due the next day, had no idea what to write, and little or no knowledge of the subject-matter because of all of the classes that she missed. So I would take care of it for her. I was happy to the first few times, though after enough reiterations of how these last-minute deadlines came at her suddenly without any warning (when she'd groused at me for reminding her of it as the date approaches) and her being caught flatfooted, it gets exasperating.
Anyhow, I'm sure that you're shocked to hear this, but I can be a kind of wordy fellow and so when a paper was meant to be 3-5 pages long, I usually had to struggle to meet the five-page maximum. So there was usually an abundance of material for a half-hearted rewrite for Julie's benefit. I would cut out several points, usually add a couple, or if it was a paper that we had flexibility on, topic-wise, pick up on something that got cut from my paper and run with it. The papers were junk. Typically mindless, unoriginal, and about as by-the-numbers as you could possibly imagine.
They also – every single one of them – got a higher grade than the papers that I turned in with my own name. And it was never that I was overtly docked for failing to stay on-point or for rambling on. Quite the opposite. I would get docked for failing to address a particular point. Her paper failed to address it, too, but it only seemed to matter on mine. I have a number of theories as to why hers graded better than mine, though none make a whole lot of sense. By the third class I though about simply reversing the names on the papers, but though a cheater I was I couldn't bring myself to do it. I was proud of my A- papers and her A+ papers were, as far as I was concerned, parrot droppings. In two of the three classes I got a higher grade than her simply because I couldn't take the test for her as well. In the third class I actually could help her with the tests, too, and she scored the highest grade in the class and got an email from the prof saying as much.
I'm sure if there are any Game-types that read this, they are thinking how pathetically beta my behavior is. Probably thinking that she lost all respect for me as I bent over backwards doing these things for her. The problem is that it couldn't be further from the truth. She was actually very appreciative and did not lead her to dump by ass or cheat on me with an alpha. She did kind of take it for granted, and that caused some ill-will on my part, but she never took me for granted. After the third class together where she almost never showed up at all, I resolved that I wouldn't take any more classes with her. It didn't matter as our relationship collapsed at the end of that semester and she had flunked out of Southern Tech University anyway.
The second, and to me more interesting story, is this one from the University of Central Florida. Basically, some students got ahold of the test bank and the professor caught wind of it. There is a video of the lecture that the professor gave to his students, offering them an out:
"I don't want to have to explain to your parents why you didn't graduate, so I went to the Dean and I made a deal. The deal is you can either wait it out and hope that we don't identify you, or you can identify yourself to your lab instructor and you can complete the rest of the course and the grade you get in the course is the grade you earned in the course."
That's a pretty generous deal. In fact, so generous that even if I didn't cheat* I might fess up to having done so simply out of fear of their algorithms incorrectly identifying me as a cheater. I mean, the overall cost is lost face in the eyes of a professor and a four-hour ethics course. That punishment is guaranteed. But if the algorithms are wrong and you are incorrectly identified, the consequences are absolutely ruinous. It's the same dynamic that leads people to confess to crimes they didn't commit because they're allowed to confess on a lesser charge. I mean, how much faith would you have in their algorithms? Probably a lot now, but back when I was in college? I'd probably grant at least a 5-10% chance of it being wrong. And I wouldn't like those odds.
I wonder how many of the people that confessed were innocent but making that same calculation?
I never cheated on a college exam. I came close once, having printed out all my notes on a little piece of paper. But I couldn't bring myself to do it. In addition to helping Julianne out with her college studies, I also helped out some kids in junior high and high school for various reasons (some I regret, others I don't). I did get caught trying to copy someone's paper during a Spanish exam. I needed glasses and did not yet have them. The teacher did not have to be particularly perceptive to catch me. My friend Clint, incidentally, was caught by the exact same teacher trying to change his grade in her gradebook. She threatened to get a handwriting expert and he broke.
About the Author
If you are interested in subscribing to new post notifications,
please enter your email address on this page.