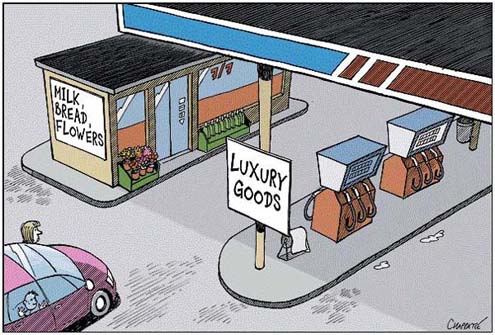 On a couple of occasions, Barry and I have discussed the gas price hikes during hurricane season. For the most part I came to the defense of big oil, explaining that there really were reasons why gas prices would climb so quickly other than the obvious profit motive. The short argument is we have inadequate refining capacity huddled right down hurricane alley. In fact, I am relatively sure that a fair number of gas stations were actually selling it at a loss. There was a flattening of prices for a while, with name gas stations charging only a few cents more than the discounters and only a few cents difference between Delosa (where oil is generally cheap) and Deseret (where it is not so cheap). That's usually indicative of gas prices running up against an artificial barrier (in this case, the $3 mark. The same thing happened when it hit $2). Gas stations by and large make their money through the convenience stores they're attached to, and I am guessing that some of them were willing to lose a bit on gas to get people to come in to their stores. Or at least willing to forego much of any profit.
But that's over now.
I believe my earlier position to be sound, but the situation has changed. The Washington Times outlines it all quite nicely. With the uncertainty gone, the prices should have dropped almost as quickly as they rose. The damage was less than feared (and fear was one of the big things driving the prices upward).
Even our oil-friendly Congress are getting a bit anxious about the prices, and concerns about record profits by the oil companies. I try to avoid getting too political on this site, but it seems to me some assurances of cooperation might have been a good thing to get before the Energy Bill that they got through that was very, very generous to those they are worried about being associated with.
About the Author
If you are interested in subscribing to new post notifications,
please enter your email address on this page.