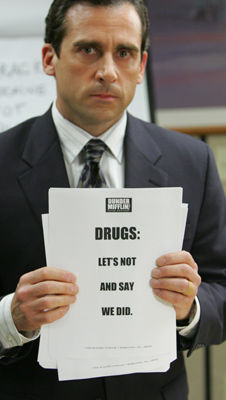 As those of you who care already know, Steve Carrell is leaving The Office. So… what now?
The most apt comparison is to Phil Hartmann's death and replacement on NewsRadio. Not just because they're replacing (assuming they replace him, which they probably will, since NBC needs anything they can call a hit) an anchor of the show, but because Hartmann's and Carrell's roles were in some ways pretty similar. They were comedy relief while the real plot focused on the sexual tension between two other characters (Dave and Lisa on NewsRadio and Jim and Pam on The Office). That was the case early on moreso than it is now, though. The Michael Scott (Carrell) character has turned out to be far more three-dimensional than Bill McNeal (Hartmann) ever was. And the Jim-Pam plot has more-or-less revolved itself.
Even so, I hope that they avoid the mistake that NewsRadio made and keep Jon Lovitz as far away from this show as humanly possible! I'm no fan of Lovitz to begin with, but he was 100% wrong to replace Hartmann. He wouldn't be quite as wrong to replace Carrell, but his over-the-top manner would not fit in well. I'm not worried about Lovitz specifically since I doubt they would bring him on, but I do hope that they don't go the same shallow route. Leslie Knope from Parks & Recreation is about the right combination of similar-but-different that they should be going for.
That's assuming that they replace Carrell's character with a new head-of-branch. One thing they could do is simply promote from within. After too long a wait, they finally added Edd Helms to the starting credits (he should have replaced Novak two seasons back) and so losing Carrell would simply put them back at the previous number. One commenter in the linked article at the top of this post suggested Gabe (the empty suit from Florida). That could actually be a great idea as a true foil for the rest of the cast. The character doesn't have the depth now, but they could add to it.
One of the unfortunate things is that they've already played out the plots that it would be really useful to have about now. They've already had Jim be the boss (or co-boss) and having him replace Michael would have had some possibility. And since they've already more-or-less resolved the Jim-Pam romance, they can't lean on that, either. I'm not sure who else from the office (besides Gabe) would be a suitable replacement. Dwight from earlier in the show might have been, but it wouldn't seem quite right at this juncture. They've also run with the Ryan-as-a-foil plot. So… I don't know.
They do need to figure out something if they're going to continue the show. The ensemble cast is particular strong, but I don't know if it's that strong without a Michael-like anchor or a really good romantic subplot.
I say go with Gabe.
About the Author
If you are interested in subscribing to new post notifications,
please enter your email address on this page.