The following contains spoilers on the eighth and final season of 24.
*********SPOILER ALERT*********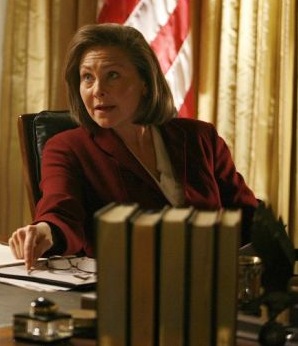 In some ways, the 8th Season of 24 was the most interesting. A weakness of the show, in my opinion, is that the presidents on 24 tended to fall distinctly into two categories: Good and honest presidents (Presidents Palmer, President Taylor) and terrible and dishonest presidents (President Logan, Acting President Daniels). In that sense, President Keeler struck me as the only realistic president. That's a topic for another time, but what Season 8 did was present a real fall from grace from an erstwhile good president.
One of the things that struck me about President Taylor throughout the course of the season was that, being such a good and wholesome person, she simply didn't know how to be dishonest. Or rather, because she was so unaccustomed to bending, she couldn't do it without breaking. I was actually with her at first. I thought that sidelining Jack Bauer, while obviously tactically a bad move (nobody sidelines Jack Bauer), to be a reasonable move under the circumstances. He threatened a peace process that far bigger than the crimes that he wanted to expose. I really thought it was Jack Bauer that was the unreasonable one.
The problem really began not just when Bauer escaped, but when she kept trying to cover everything up afterward. One can forgive her for her misjudgment on Bauer because she doesn't know that he's the star of a show in which he is a force of nature. But there came a point where it was obvious that she lost control. Nevermind the morality of the situation, the threat of even an unlikely exposure by Bauer represented a far greater threat than a temporarily derailed peace process. Where the situation became entirely unsustainable was when she had the reporter jailed. At that point, it was nearly impossible to imagine that she could get away with it. Even having her killed would have resulted in too many questions being asked (Bauer's death would have been easier to cover up).
Taylor's ultimate problem is that by being an honest person, she couldn't bend without breaking. She didn't know where the line was between cutthroat politics and myopathy. Someone with more experience skirting the line would have known when it was time to cut their losses.
Of course, in the end Charles Logan didn't pull it off, either. Sort of for the opposite problem. Unlike Taylor, Logan would have been willing to do whatever it took to keep it quiet. But without any sort of moral compass beyond expediency, Logan simply didn't know where to draw the line for practicality's sake. In his own warped sense of morality, he too was doing the right thing. He had his own myopathy that pushed him to do some pretty bad things not only without regard to basic morality but without a complete understanding of how perceived immorality – even if what he was doing was completely right in his own eyes – could undermine his cause.
Back to Taylor for a moment, the idea struck me somewhere after Bauer escaped and prior to Merideth Reed being jailed that there was a compromise to be struck between Taylor and Bauer. Taylor wanted her peace process and Bauer wanted his justice. Had Taylor simply been willing to look the other way while Bauer extracted justice, they both could have been satisfied. President Suvarov could not have made too many waves for fear of being exposed. Of course, when Suvarov himself was discovered to be behind it all, that would have complicated things. At that point, Taylor could have offered Bauer a plane ticket to Russia and requested that he wait until then and that he cover his tracks.
In the end, neither Taylor nor Bauer would have probably consented to The Truman Plan. It was too far outside of Taylor's character to be so aggressively amoral for the greater good even if the alternative was to back into something worse. It's sorta like the young couple that can rationalize having unprotected sex as spur-of-the-moment but believe bringing a condom is a sign of sin because it meant that you had planned it all along and were therefore more morally culpable. She had to be pushed into it one step at a time. And Bauer's sense of morality would likely have made allowing Suvarov to go down in history as a respectable figure of peace (having signed both Logan's accords as well as Taylor's) would have been too much for him to accept. Or maybe not. The guy was a former black ops operative, so he must have had some understanding that some things are best left unexposed. That's a harder sell when his girlfriend's body is not yet cold, however.
About the Author
If you are interested in subscribing to new post notifications,
please enter your email address on this page.