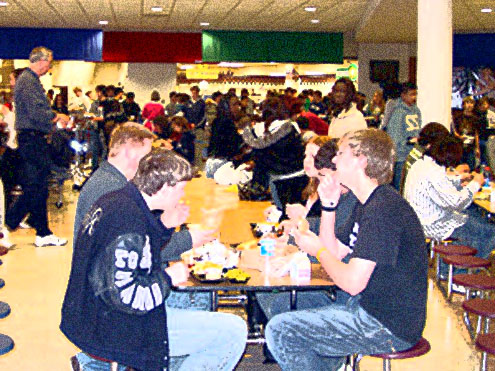 In a long discussion with Phi about the whole Phoebe Prince mess, the subject of friendships in the lower echelons of high school popularity. He commented that when he was younger he had friendships but no group of friends. It's a distinction that I hadn't actually put a whole lot of thought into. Thinking about my own experience, it's not exactly true for me, but it's at least as true or not.
I didn't have a dearth of friends. I was fortunate to go to a school with over 4,000 students where simply numbers suggested that you would find someone you were compatible with. I actually did better than that, having at least someone I was friendly with in each class. Sometimes a group of people. Were they friends? Not exactly. But we were at least friendly acquaintances. Don't get me wrong, I had genuine friends, too. Not a large number, but I never really wanted a large number.
And there were sort of groups. There was a group of us that would get to school at an ungawdly hour of the morning so that we could get a good parking space. My best friend Clint also had some friends that I was very friendly with. Andrea Carmine and that gang. But these were casual and makeshift groups and while I was friendly with them, with the exception of The Early Bird Club, the connection was pretty weak and through a bilateral friendship. I was friends with one of them and so I got to know them. The only way it would go beyond that is if I had a class with them and I rarely did (it was, after all, a school of 4,000). Never a group big enough and close enough that I would have a natural destination when entering a classroom or the lunchroom or whatever.
So when it came to actual groups, I was not hugely successful. Unless I had an ambassador conduits like Clint or Andrea, I had a lot of trouble breaking in. It's pretty frustrating to look back on. Mostly because I really had no one but myself to blame. I didn't have the social confidence yet I would eventually acquire. I lacked drive. I was a little too comfortable by myself.
Beyond that, I also failed to realize how to lay groundwork for group activities. I never participated in any extracurricular activities. I disliked Mayne High School with a passion and didn't want to contribute to it in the slightest. I didn't fully realize the social implications of that. Further, I segregated myself by declining to be in honors classes. I lost touch with a whole lot of the friendships I had made before the tracking began. I retouched base with them at the High School Reunion and was reminded of what I had missed out on. Besides honors students, the most natural fit was oddly band. It was Clint's friends from band that I got along with the most. The problem was that I wasn't the least bit musical.
I have a lot of regrets about my socialization in high school. I see so many missed opportunities. Since making friends was difficult, since I had more robust social life apart from the school, and since I didn't need a whole lot of friends most of the time, I just didn't extend the effort I could have. Most of the time this didn't matter, but I look back and shake my head at the times it did. Most particularly, I had no one to sit with at lunch. I don't know how exactly it happened, but it seemed that every semester I would end up tossed with the 1/3 of the school that I didn't know. That's a mild exaggeration as I did have a couple good semesters with Clint and I made do a couple other semesters, but when there are 1,300 people in the cafeteria at any given lunch period, there's no excuse for ever sitting alone. Or having to sit with a group of people that you really don't like but are there.
All of this made it so strange that at my high school reunion, I ended up sitting at a random table, introducing myself to a group of people that I didn't know, and made three friends. When we parted ways I told them that I wish I had known them back in the day. My bad.
About the Author
If you are interested in subscribing to new post notifications,
please enter your email address on this page.