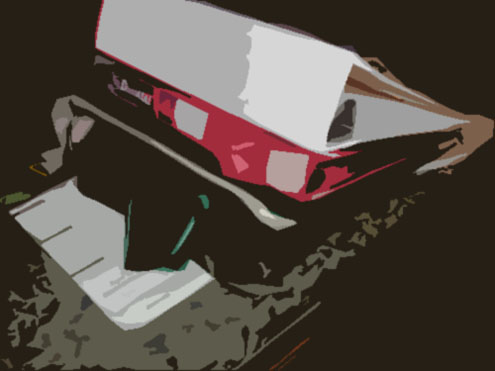 When I was growing up, there was the annual ritual of buying school supplies. They included the typical things such as pencils and papers. The big buy, however, was the binder. Each year we got one because they only lasted a year. They actually lasted less than a year, but we made do with the misaligned claws and torn pockets because we couldn't convince our parents to buy a new one in March. And we didn't want to. By that time we usually got attached to it. It was the one school supply that was also a fashion statement. I can't remember what the girls got as they did not yet exist to me until about the fourth grade, but the boys would get He-Man or Thundercats or Batman or something like it and it defined us.
In the fourth grade, I had a teacher named Mrs. Nelson that I had such a crush on that I faked bad vision in order to get attention from her. Just about all the boys had crushes on her. Best. Behaved. Class. Ever.
Anyhow, that year my binder fell apart before the fall semester was even over. I probably could have convinced Mom to get me a new one, but either I feared I would get in trouble or I decided to get creative. So what I did was take all of the binders from years past, take some duct tape to them, and create the Mega-Binder. Actually, I created two because I had so many. I gave the second to my neighbor and periodic friend Toby Crowell. He was as excited as I was about having the two biggest binders in school.
We showed the binders to everybody in sight and they all thought it was pretty cool. At least the boys did, and their opinions were the one that counted. At some point a couple days in I showed Mrs. Nelson. Normally one of the nicest, kindest, warmest teachers I ever had… she blew a gasket. Before I knew it she was screaming at me in front of the whole class about how of course she had noticed it and had been biting her tongue but if I really wanted to know what she thought about it she thought that it was an absolutely grotesque example of our wasteful consumer society and of class inequality where some boys would buy five binders and tear them apart while there were young boys in this country that couldn't even afford one good binder.
I didn't really understand what the inequality between our elementary school classes had much to do with anything and as far as I knew everybody could afford school supplies. I didn't really understand what she was talking about at all except for that she was obviously real mad about something some class was doing wrong. What I really didn't understand was that she didn't understand that they were used and otherwise discarded binders save for the fact that I couldn't bear to throw anything away because it seemed so wasteful. Not able to understand much of anything, I just tried not to cry. I can't recall how successful I was or was not.
The binder never saw the light of day again. Toby had heard what happened and he threw his out. I couldn't, though. It seemed wasteful.
About the Author
If you are interested in subscribing to new post notifications,
please enter your email address on this page.