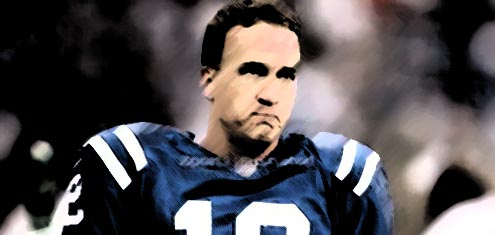 As mentioned before, the Indianapolis Colts choked up a game trying to keep their players healthy for the playoffs. Most commentators are upset about it, though some have defended it. My father-in-law chalks it up to strategy that makes sense given the rules of the game, namely because having accomplished home-field advantage nothing matters until the playoffs. Others say that it was a bad move because the hit their morale takes (not just losing a game, but losing one that they could win) makes it less rather than more likely that they will win the Superbowl.
I think most of these people miss the point. DamnYankee, a commenter on Ta-Nahisi Coates's blog, gets it:
The issue is not whether this makes it more likely or less likely that they win the Super Bowl, but rather that things other than playoffs should matter!. That some people can even say that taking a loss makes perfect sense because it doesn't affect their playoff standings is symptomatic of the problems that playoff-obsession cause.
This isn't an argument before or against playoffs in general. Rather, it's that there ought to be different avenues of success. This can be accomplished within a playoff structure. Unfortunately, it's often the case that playoff systems take on a life of their own and other goals, like division titles and victories over rivals, begin to matter less.
Whatever my criticisms of the NFL playoff model, going undefeated remains a victory apart from Super Bowl victories. This should be preserved. The Indianapolis Colts (or more preciisely, their coach) should be shamed for what they did. I hope that the morale hit they took takes all of the wind out of their season and they lose in the first or second round of the playoffs.
(I just hope they don't lose in favor of an 8-8 Super Bowl Champion)
About the Author
If you are interested in subscribing to new post notifications,
please enter your email address on this page.