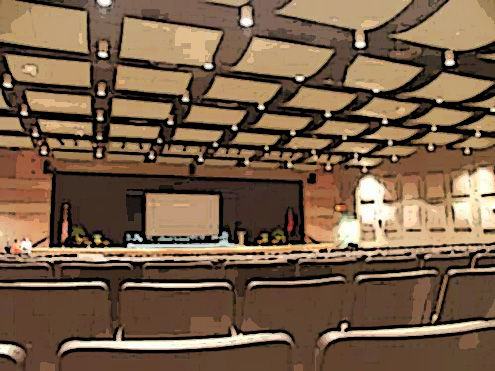 My first close friend of the female persuasion was Andrea Carmine. It was sort of an accident how I became friends with her. Well, it asn't an accident at all. It was a failed attempt at manipulation.
We were in the same theater class and I developed a crush on her friend Charlene Kopfer. Charlene was tied to Andrea at the hip. Andrea was pretty outgoing and we had a connection in that we both knew a girl named Patty Charles. so I befriended Andrea to get access to Charlene.
Does that ever work? Not for me.
Andrea and I had a surprising amount of chemistry. Her outgoingness and my reservedness complemented one another quite well. It didn't take long for rumors to start. Almost entirely among people that didn't like people like us.
When we had to pair off for duets in theater class, I was of course hoping to be paired off with Charlene. However, since she I had yet to get past Andrea to her, it Charlene ended up partnered with Janet, another girl to sort of join our group of four. Andrea and I were spectacular together, earning the only standing ovation from the teacher.
This is unrelated to most of the story, but there was a case where the four of us were going to rehearse outside of school at Charlene's house. Charlene's mother was very protective and was uncomfortable with her having "a boy" over (even if there were going to be three girls). Charlene comforted her mother by saying that I was a conservatively dressed kid that drove a minivan for goodness sakes. Mrs. Kopfer was convinced.
At the time, I had longish hair. I'm not sure that Charlene knew this because because I typically saw her in the morning when it was wetted down. And even outside of the mornings, I typically kept it close to my head and tucked away. And while I did drive a minivan to school and to a lot of other places, that was because my folks were uncomfortable with leaving our convertible in a parking lot. On weekends, though, I generally drove the convertible. I have sensitive eyes, so I typically wear sunglasses. And I have a leather jacket. And when I drive the convertible, my otherwise well-placed partially-long hair gets pretty wildly disordered. So when I showed up at their doorstep, Mrs. Kopfer saw a tall, wild-haired hooligan with a leather jacket and sunglasses hop out of a convertible. Charlene was pretty upset with me, which was the most emotion I'd gotten out of her at that point.
Then came the next round of duets and this time I got partnered off with Charlene. It was a disaster. Charlene was completely uninterested in rehearsing at all. She was uninterested in doing much of anything except talking to Andrea and Janet. That she was romantically uninterested in me would be an understatement.
That was fine, though, because my interest in her was dwindling, too. She was quite immature, still hovering a junior high mentality. She never learned her lines and when we finally did our presentation I had to feed her almost every line. She got a "C" for failing to remember her lines. I got a "B-" for failing to feed her the lines with sufficient subtlety.
Unattracted to Andrea and feeling a particular contempt for Charlene, I eventually asked out Janet. She somewhat graciously declined.
About the Author
If you are interested in subscribing to new post notifications,
please enter your email address on this page.