Audacious Epigone has a(n anti-semitic) post but with a really interesting datapoint: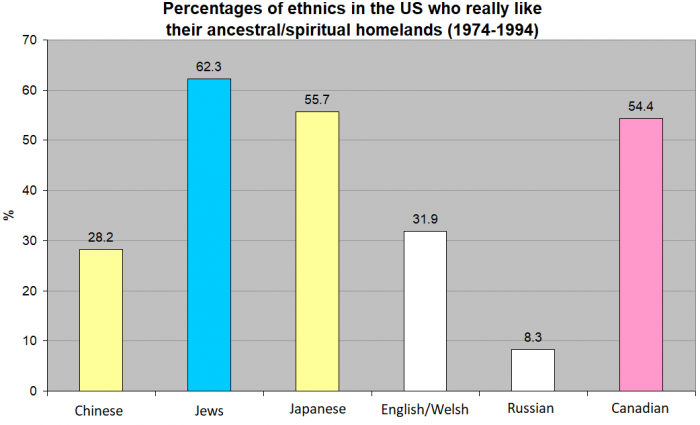 His point is on the Jewish topline, but their numbers are only moderately higher than Japan and Canada, neither of which we especially consider a threat. China and Russia… have a lot going against them and those who came here from there are adversely selected in a way that Japanese are less likely to be. The only real surprise is England (my ancestral homeland). If I were more ambitious, I'd track down the numbers for more countries because it's really interesting. Specifically I'd be interested in Mexico, India, Vietnam, Nordica, Germany, Italy, and Ireland. Then, for good measure, theck out Texans who live elsewhere in the US.
Anyway, my guess is that the numbers for Ireland and Italy would be high and Germany would probably be somewhere in between those two and England. While I am sort of puzzled by the England number, I am also not too surprised about it. There's something non-de-rigueur about being high on Britain and the UK, even though no other non-neighboring country has a more persistent hold on our national attention. So we pay attention to it but maybe can't quite love it.
One alternative to that is a watering-down. Very few people are of strictly English heritage. And the two countries are so similar that we just don't think of things in those terms, the way that others do. If you are of Russian or Japanese ancestry you are more likely to be of distinct Russian or Japanese ancestry than if you're English. Italy and Ireland used to be more like Russia, but now are more like England. So Russia's numbers are low and Japan's numbers are relatively high because opinions run more strongly one way or the other due to a stronger connection. England, meanwhile, elicits a shrug. Maybe Germany, too.
I really need to learn how to use the GSS thing.
In any event, I am skeptical that the 8% that separates Jews from Canadians warrants the amount of attention directed to each.
About the Author
If you are interested in subscribing to new post notifications,
please enter your email address on this page.