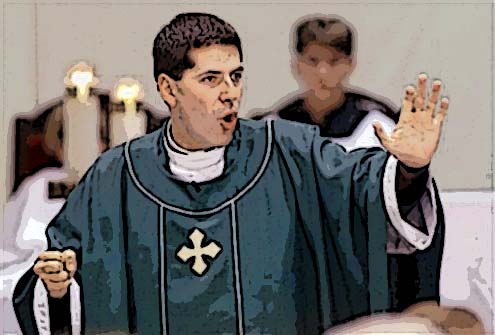 A few months ago, I had never heard of Alberto Cutie. He is apparently a popular Spanish-speaking Catholic priest in Miami that was caught necking with a woman. Interestingly, he refused to become the Poster Boy for the celibacy requirement of Roman Catholic priests. Less surprisingly, he has since left the Roman Catholic Church to become an Episcopalian pastor. Despite his desire not to become a living, breathing reason to question the Catholic requirement, the departure of a popular priest who had the misfortune to fall in love becomes just that. Of course, those most likely to consider his relevance are those that already don't agree with the celibacy requirement.
I am generally loathe to make declarations about what groups that I do not belong to ought to do. It becomes sort of like when Republicans used to give "advice" to the Democrats about how to reverse their fortunes. The same sort of advice (from the other direction) that Democrats are giving Republicans now. The problem with such advice is that it ranges from biased to disingenuous. People that lecture a group about what it should be with no real intention of joining said group simply don't have the standing to have their advice received. Having no vested interest in the success of the group and therefore being immune to the negative repercussions of their advice (if followed), in addition to being biased and disingenuous the advice is simply bad. The churches that do everything the non-churchgoing, irreligious people say that churches should do to grow and stay relevant instead shrink and become less relevant. So I take the point of view that the discussion of matters such as priestly celibacy is the church's to have.
All of that being said, what point is a blog if not for saying pointless things that you don't have the standing to say? I'm partially kidding. Though my thoughts are unlikely to be received by anyone that matters, I think that it is interesting to investigate the effect that such requirements have on a pool of candidates.
It seems to me that these requirements would broadly produce candidates that fall into one of two categories: People willing to give themselves over completely to God despite the onerous requirements and people for whom the requirement is, for one reason or another, not much of a sacrifice. The first group are often precisely the people you want as priests. The second group includes others that you might want, too. People that are naturally asexual, homosexual disinclined to act on it, and widowers. The latter group also includes people that you really, really don't want. I don't think that there is much need to elaborate on that.
But as important as the quality of candidates is the quantity. The shortage of priests in the United States is well-known. I've read statistics suggesting 1 in 4 American parishes do not have priests, a statistic that seems awfully high but even if it is it is a problem that's getting worse. But I've read that despite its dwindling membership that The Episcopal Church has a shortage of its own. And some are arguing that the problem is one of distribution rather than numbers:
In fact, says Fr. Paul Sullins, the level of lay involvement, combined with increased use of deacons and falling rates of church participation among the nation's 66.4 million Catholics, makes the whole question of a priest shortage not a crisis, but a manageable problem.

"It's not a national shortage," said Sullins, a married former Episcopal priest and father of three who was ordained into the Catholic church in May 2002. Rather, "it's a shortage in certain dioceses" resulting from a "poor distribution of priests."

"If the priests were evenly distributed among the country there would be at least one … per parish. The number of parishioners has grown a lot in the past 40 years, but the number of parishes has not grown as much."
So it's possible that even with the requirement they can pick up the slack with deacons and better distributions. Or by consolidating parishes. Or a bunch of other ways. The celibacy requirement seems to have become part of the character of the church and I could definitely see how it would be unwise to uproot that out of short-term utilitarianism when there are always going to be ways to compensate for it.
Religious traditions are traditions and our perceptions of normalcy are often simply the product of the environment in which we were raised. The reason that I remain a member of my church (albeit a… relaxed one…) is because it is what is normal to me. If I go to a charismatic protestant service, the jumping up and down and clapping and all that comes across to me as a bit of a spectacle. I've always felt more at home in Catholic services due in large part to their similarities to Episcopalian. But what I see as the idiosyncrasies of the Catholic Church are… well… precisely involving the areas in which it differs from my own.
So with that in mind I can respect the differences between the Catholic and Episcopalian churches and the value they put on the differences. But I nonetheless do want to advocate one major point that, even if there weren't a question of shortages or a sex abuse scandal or anything like that, makes me appreciate the protestant way of doing things. I like the fact that the pastors in my church are, to some extent, one of us. I think that it helps them relate to the lives of the parishioners that they have imperfect marriages and children just like we do (or will). While I can appreciate the appeal of priests that are above (or apart from) that sort of thing, I think that there is value in a priests ability to better relate to the people that he is preaching to. In the Mormon church (as well as many protestant denominations), they go a step further and don't have professional clergy and instead have members of the congregation appointed to the position and so they not only have the wife and kids but also the job and mortgage (Episcopal pastors have their housing taken care of).
In that vein, I found the aforelinked Slate piece by Michael Sean Winters to be puzzling in one respect:
In fact, ending celibacy would bring on a different set of problems and issues. Priests earn very little money, making supporting a family, let alone sending a child to college, seem impossible. Would salaries go up, and are the people in the pews willing to pay for that? The first time a priest abandons his wife and children, people would be clamoring for the good old days when priests did not marry.
Keeping in mind that I go to the church of rich people, is this really an issue? Episcopal pastors support families including a wife who rarely ever works (my own church growing up had one pastor whose wife worked… it caused problems). Divorce rates amongst clergy are generally pretty low, particularly in conservative denominations where losing your family can mean losing your jobs. This isn't exactly uncharted territory. But I guess it would be for Catholics, and that is not unimportant. Amongst the laypeople, Catholics are not much less likely to divorce than average. That could be said to say that they would get over the first priestly divorce… or to say (as Winters does) that celibacy is a way to shield their pastors from such common human failings.
About the Author
If you are interested in subscribing to new post notifications,
please enter your email address on this page.