A look at one-way amorousness and non-relationships on Grey's Anatomy, in Hollywood, and in life.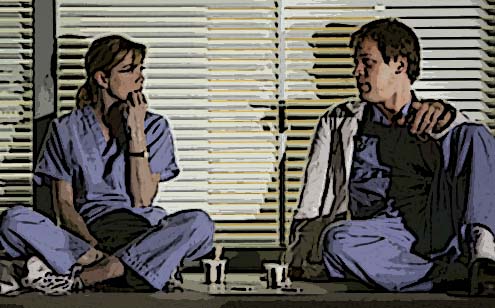 The latest show that I've been consuming through my earpiece (as well as watching when I have a spare eye) is Grey's Anatomy. So far I'm enjoying it. One of the more interesting aspects is the non-romance between lead Meredith Grey and her rejected suitor George O'Malley. In some ways it's the classic case of a chick rejecting the sincere beta in search for her alpha. The alpha, in this case, being the unhappily married Derek ("Dr. McDreamy") Shepherd. But it's clear from the outset that Dr. Shepherd is not the only obstacle in George's way. The primary obstacle is the fact that Meredith doesn't even notice that he's interested (or acts as though she doesn't). This is problematic not just because it means that O'Malley has to do the heavy lifting to make anything happen, but in my experience if you're hot for someone chances are good they either know it or the way that they see you is completely devoid of any sexual attraction.
O'Malley stands by in utter frustration as Meredith gets her heart broken repeatedly by the conflicted Dr. McDreamy while he knows that he would love her and never hurt her if he just got the chance. O'Malley gets some disingenuous advice from their mutual friends to go for it. I guess it's something that people are expected to say, but it's pretty bum advice when it's equally obvious to everybody that it's going to end badly.
And, of course, it does. As O'Malley is about to make his move, he catches Meredith having sex with somebody that she absolutely, positively should not be having sex with. He flies off the deep-end. Things tumble for Meredith until she is feeling beyond miserable about herself. In a moment of weakness, she receives O'Malley's sexual advances. Long story short, the whole incident ends in a way beyond humiliating for O'Malley and he moves out (the two of them were living together with someone else), everyone takes his side, and Meredith is left feeling lower than dirt. Which, in his mind, is what she deserves after the awful way that she humiliated him. And most of her friends are willing to give her no quarter (their mutual roommate says flat-out that if it comes down to it, she's siding with him). She apologized again and again, but he would have none of it.
As I watch and listen the whole situation unfold, it's hard for me to experience too much sympathy for O'Malley. Of course, I can completely and entirely relate to the guy that loves the girl that doesn't love him back. His hurt was understandable, as was a fit of rage after the humiliation, but a little perspective casts a pretty different light on things. He circled around her like a vulture. At her greatest moment of vulnerability (some of which caused by him), he made his move. Things didn't work out like he'd known all along they wouldn't until he saw his moment to strike, and he is indignant. None of this is to suggest that Meredith is free of blame. Though her reactions were the product of her own torment (much of it self-inflicted), self-destructive behavior becomes less tragic and more unforgivable when it has a radius beyond the self-destructive individual. And to be honest, O'Malley's actions themselves were also the product of his own hurt. The main difference, in my mind, is that she has apologized repeatedly and neither he nor anybody else acknowledges the role he played in his own destruction.
This makes me think of the plight of a lot of beta males. The source of his pain was not entirely his own doing. It's not like there was something that he could have done in order to win her over the "right" way. He had no chance. And to some extent, you can't help who you are attracted to. But what you can help is (a) how much you cultivate that attraction and (b) how you respond to it. O'Malley followed the path that a lot of us do. He at once acknowledged that she was out of his league and so didn't make his move but then did not acknowledge that the next move was his… the move away. Moving out of the apartment or trying to tackle his futile emotions. The romantic in all of us says that love is not something that can be contained, but to say that of O'Malley is also to say that of Meredith. The main difference being that she at least had a shot at her dream at one point.
There is supposed to be a romantic tragedy behind the love of the unattainable. I think that popular entertainment presents us with it so often (and make it love actualized sometimes) because we can all relate to it. But I view it as a truly destructive force. The inability to get someone out of your mind or to let a former lover go is one of the greatest sources of self-inflicted misery I've seen in those around me in my somewhat privileged life. It's human and to some extent unavoidable, but I find Hollywood's exaltation of this impulse to be problematic. I've complained before about how Hollywood misleads men by making them thing that persistence counts. But it misleads women into thinking that men will come around, too. And it misleads all of us into thinking that there is something beautiful about unrequited love and dreaming the impossible (Mc)Dream(y).
There isn't.
And it isn't just that it makes people unhappy. It's a contagious sort of unhappiness. It leads to O'Malley the Vulture and Meredith the Succubus. It leads us to overlook the options that we do have. It makes us less pleasant for our friends to be around. Unless you're a tortured artist, there isn't much positive that can come from it. I think that we search endlessly for the bright side so we invent one. And though it never makes the pain stop, it makes us endure abuse and neglect and it makes us deal it out to people that are not the ones abusing and neglecting us. And, for that matter, exactly to the one abusing and neglecting us for the same reason that we are doing the same. Of course, that assumes that you're in a position to deal the pain you're experiencing. These people can be the most insufferable because they think that a dearth of available victims makes them benign.
Update: As if to make a fool out of me, O'Malley apologized in the episode I listened to today, outlining a significant portion of what I said above. He has regained his status as my favorite character. Most excellent.
About the Author
If you are interested in subscribing to new post notifications,
please enter your email address on this page.