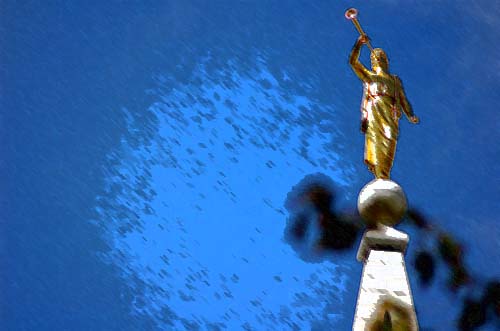 Transplanted Lawyer (self-declared atheist) brings up the story of the American Atheists trying to stop the Utah Highway Patrol's desire to put up a white cross next to places where officers have been killed. He doesn't think that it's a good idea because it's something that does not elicit an iota of general public support. And it risks backlash of the sort where the court can declare a cross a "secular symbol"… which is what the courts actually did. TL isn't pleased by that result:
There you go — a ruling that the cross is now a secular symbol of death and mourning. Which means that not only can it go up on roadside memorials, it can go up on the walls of courtrooms, city halls, and the Utah Legislature because it can be called a "memorial" to fallen soldiers, 9/11 victims, or anyone else that no one with the remotest bit of political sense would dare attack. Good job protecting the wall of separation of church and state there, American Atheists!
There are two great ironies here:
The white crosses in the state of Utah are almost certainly secular in nature.
The Utah Legislature would have almost certainly no desire to put the cross everywhere, even if they could.
If a state in the south were to argue that the white cross is a secular symbol, I would probably scoff. Actually, not just the south. Almost any state. Any state except Utah, that is. And maybe Idaho. Why? Because Utah happens to be the only state in the continental United States that I am aware of where the dominant religion (or denomination, depending on how you look at it) does not recognize the cross as a holy symbol. Utah is, of course, predominantly Mormon. Mormons are particularly active in positions of authority such as police departments and government because they are united and civilly active. So it stands to reason that most of the people behind the push for the white cross are Mormons. And Mormons do not recognize the cross as a holy symbol.
Their churches do not have crosses. Their temples do not have crosses. Necklaces around their neck do not contain crosses. In short, Mormons don't do crosses. So if Mormons (or Utahns) want crosses on the side of the road, it is almost certainly secular in nature.
What's bizarre is that someone in the American Atheists must know this. Or if they didn't know if off the bat, the Utah branch of the ACLU might have given their erstwhile allies a heads up. I had to check, but there is an ACLU in Utah, though I couldn't find anything on American Atheists of Utah. Somebody, somewhere must have told them that this was not the fight to pick. Even if knowing that crosses are not a Mormon thing and that the crosses are religious in content if not in intent, surely someone, somewhere must have looked at this case and known that it was a fool's quest. Right? Or are these people so insulated that they don't know any Mormons to inform them of the whole cross thing or that suing cops wanting to honor their fallen brethren is a bad idea?
In short, to the extent that this case drew my attention, it actually convinced me that white crosses are a secular symbol. Had this taken place in South Carolina, I would have doubted it very strongly. And if you would have told me that someone was suing the state of Utah because of some improprieties involving Church and State, I would almost certainly give the plaintiffs the benefit of the doubt. This is the case that convinces me that Utah isn't always wrong on Church/State issues and that the cross is indeed a secular symbol, at least in it's white-by-the-road form.
I don't think that's what the American Atheists were going for…
About the Author
If you are interested in subscribing to new post notifications,
please enter your email address on this page.