I noticed a few days ago that the remote to the TV went missing. Also missing, was one of the PC remotes for the TV PC. It's not uncommon for things to go missing in the somewhat messy living room, but I was surprised when after I cleaned the room up both were still missing. I have another PC remote, so that wasn't a big deal. The regular TV remote, though, that stung. especially since I was planning to subscribe to Netflix and wanted to use some of the features of the Smart TV. I do have a couple apps on my phone, but they're kind of a pain for anything involved. Which using the Smart TV is.
Knowing that one can never have too many remotes, I went ahead and ordered one from Samsung. It was set to arrive on MLK Day because Amazon doesn't give a crap what days the Postal Service considers holidays it just wants them to get it done. Unfortunately, whoever delivers on off-days won't deliver to our house, meaning that it was stranded at the post office.
I made due with the app on my phone. But I did resolve to get the living room in working order. And so I did. While vacuuming the sofa, I discovered there was a hole in the lining somewhere. And at the bottom I felt a couple lumpy things that felt an awful lot like remote controls. The sofa had really eaten them. I ended up putting the sofa on its side, which Lain thought was the coolest thing ever.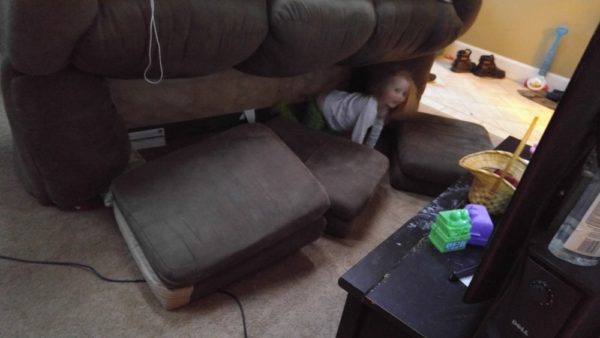 "I'm in a cave!"
"I like it better this way. Is this a cave? I've never seen a cave before!"
She also set up the cushions and a couple other things and hopped back and forth across the room (after the sofa was put back upright) and told me how she was "crossing the river."
Lain, as I think I've mentioned, doesn't walk much.
Her talking about the cave and the river made my day. Moreso than finding the remotes. And five books. And some keys to something.
About the Author
If you are interested in subscribing to new post notifications,
please enter your email address on this page.