Trump picks trade advocate to be ambassador to China (New York Times)
Mr. Branstad, whose selection was first reported by Bloomberg News and confirmed on condition of anonymity on Wednesday by two people with direct knowledge, is close to President Xi Jinping, whom he has known for more than three decades. They met in 1985, when Mr. Branstad was serving his first term as governor of Iowa and Mr. Xi was a 31-year-old rural official in Hebei Province, studying modern American agriculture, including hog and corn farming in Iowa.

Mr. Branstad has courted China as governor, promoting his state's farm goods. As ambassador, he would be tasked with managing a complex relationship that Mr. Trump has already indicated he is willing to shake up. The president-elect's call with Taiwan's president last week prompted criticism from Beijing, which considers it a breakaway province, and Mr. Trump responded with posts on Twitter attacking China for its trade practices and provocative moves in the South China Sea.
Trump picks Iowa Gov. Terry Branstad — a 'friend' of China's leader — as Beijing ambassador (Washington Post)
Branstad has extensive ties to China and a personal friendship with Chinese President Xi Jinping that dates back decades. If confirmed, the move could go some way to reassure China's leadership that Trump understands the importance of healthy relations with Beijing.

The Chinese reacted with concern to Trump's protocol-busting phone call last Friday with Tsai Ing-wen, the leader of Taiwan, an island that China considers a rogue province. Trump repeatedly attacked China on the campaign trail and in a pair of tweets last Sunday over its trade and currency policies, as well as the way it has staked its territorial claims in the South China Sea. He has threatened to slap tariffs of up to 45 percent on Chinese goods if Beijing didn't "behave."

The selection of Branstad was first reported by Bloomberg News and confirmed Wednesday by a transition official, who requested anonymity because the nomination had not yet been formally announced.

China's foreign ministry did not confirm the report, but reacted warmly.

"First of all, I would like to say that Mr. Branstad is an old friend of the Chinese people and we welcome him to play a greater role in promoting Sino-U. S. relations," spokesman Lu Kang told a regular news conference.

"The U.S. ambassador to China is an important bridge between the U.S. government and the Chinese government. No matter who is in this position, we are willing to work with him to push forward the sound, steady and steady development of Sino-U. S. relations."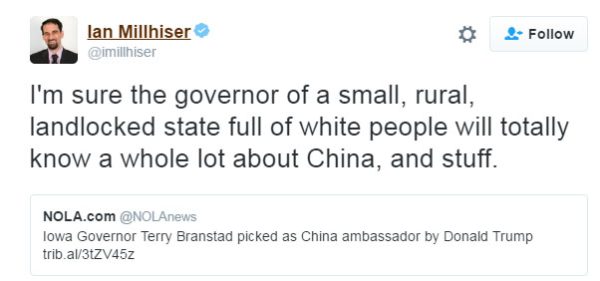 About the Author
If you are interested in subscribing to new post notifications,
please enter your email address on this page.