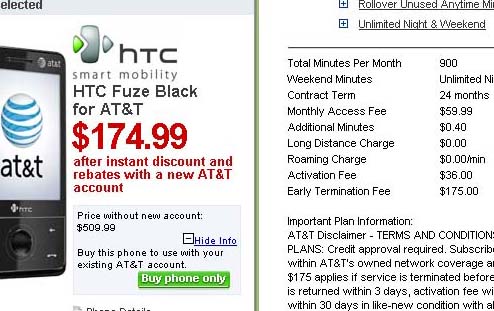 AT&T apparently really does not want to sell you a cell phone without a contact. (See this image if you want to try to figure out what I'm talking about)
The price with a 24-month contract for an HTC Fuze Black phone is $175 after rebates. If you want to buy the phone for your existing account, it's $510. Activation fee is $36. Early termination fee of a contract is $175. The contact that you have to get with the phone is $60.
So if you go out, purchase a cell phone with a new contract ($175), activate it (175+36=$211), pay for the first month ($212+60=271), then cancel service ($271+175=$447), you still come out ahead of where you would if you just bought the phone without a contact extension. Of course, there are some sales taxes involved, but not $60 I don't think. Plus you'd get an extra 900 minutes and an extra phone for a month!
I figured that AT&T was just jacking up the retail price to pressure you into signing a contract, but their $510 is actually less than the cost of the same phone on Newegg (except the Newegg phone you can take to another cell phone company). The main reason for that likely being that Newegg's is unlocked but with AT&Ts you can only use it with AT&T unless you unlock it yourself. Even so, though, it suggests that the AT&T full no-contract price is not wholly unreasonable but that they're willing to cut it that much if you're some combination of (a) willing to stick around for two years, (b) don't know how to unlock a phone, and/or (c) are unable to perform the arithmetic
I'm perfectly happy with my Smartphone, but since B and C don't apply to me, I know what I'm going to do when I want a Fuze (unless I go with eBay again).
About the Author
If you are interested in subscribing to new post notifications,
please enter your email address on this page.