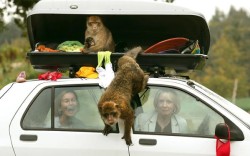 According to some research, conspiracy theorizing really is a BSDI thing.
This is one of the best liberal pieces on gun control I have ever read.
Well, when you put it that way, Trump is kind of ridiculous. (Or any other way, while we're at it.
Ryan Cooper argues that the EU screwed up and that contributed to what increasingly looks to be a bad vote on the Brexit. Maybe. Or maybe the EU as it was imagined was not a great idea because you can't turn peoples into a people by government fiat without speartips?
As we rush to (rightly) condemn rapist Brock Turner, it's worth pointing out that sex offender registries are still questionable in terms of efficacy and justice.
Japan Times looks at the Japanese custom of having kids clean up the classroom. Note, however, that contrary to rumor they do actually employ custodians.
It turns out, giving away condoms may not be the best way to reduce teen births. At least, not without counseling.
Third grade? I didn't learn cursive until the fifth, and that was back when it was a relevant skill.
Josh Blackman argues that the government cannot actually mandate that employers, landlords, and so on use of preferred pronouns.
The description of the plot of Neon Genesis Evangelion here is off, but I do kind of think that Asuka might actually be a Trump fan if they existed in the same universe.
Noah Smith is worried about Canada becoming a petrostate. Well, diversification is good, but oil per se isn't precisely Russia's or Nigeria's problem, and the fact that the only other liberal democracy that is a petrostate is just fine, I suspect that's where you would look for the good and the bad.
The Southern Baptists are going after the Confederate Flag. This… is a very good thing.
Dixie, land of the gender pioneers.
Eli Lake reports that somewhere along the way, Natan Sharansky became a realistic.
I did not know this was a thing, but apparently Hasidic Jews in New York have their own private police force.
About the Author
If you are interested in subscribing to new post notifications,
please enter your email address on this page.