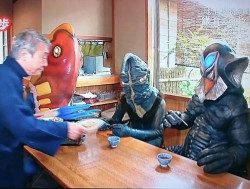 A new study finds that hand-dryers give white blood cells a good work out and make them muscular and strong, while paper towels will let their muscles atrophy as they get lethargic. So I strongly recommend that public restrooms please use hand-dryers.
Virginia Postrel argues that conservatives can make it in the academy, but only if they stop living in the closet.
Attention Michael Cain! Californians are moving to Texas! More seriously, I find the statistic about them moving to states with better business environments uninteresting because isn't that like 47 of the other states?
Though I was critical of the Minnesota gun firm that made guns that transformed into looking like a cell phone, I find this pretty cool. I can't tell if I'm being inconsistent.
Erin Einhorn looks at the hardships of Detroit kids that go to charter schools. I suppose it would just be better if we relieved them of that option?
Buyer's Remorse? More than a third of millennials say they wouldn't have attended college if they'd known the costs in advance. Is there an argument for a five-year price lock-in?
Leonid Bershidsky looks at Swedish and German approaches to prostitution. I'm somewhat partial to the Swedish model. That the German model created trafficking problems (and other degeneracy) doesn't compel me to reconsider.
Maybe soda bans and taxes aren't going to make everybody lose weight.
A new study shows that being a smoker is a cause, rather than merely an effect, of shafty treatment from potential employers. I was pretty meticulous about not showing any signs of being a smoker on any job interview.
Who's not buying what Bernie Sanders is selling? Soviet refugees, that's who. Many are, unfortunately, buying what Trump is selling.
I don't think the problem is that we're too reliant on GPS, but rather that they are not sufficiently accurate that we cannot be completely reliant on them.
Everybody's raiding Kansas! Also while we don't know where the unmatched socks end up, lost phones end up in Atlanta.
Wow! Infertile mice have been made fertile with 3D-printed ovaries.
Back home, there is a term for this: Alcohol Abuse.
Yep, the real story of Denny Hastert sexually abusing kids is the hypocrisy. What else would it be?
About the Author
If you are interested in subscribing to new post notifications,
please enter your email address on this page.