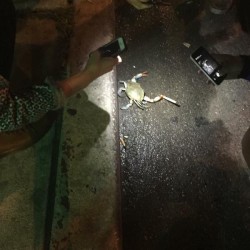 Michael Brendan Dougherty is in favor of Trumpism, but against Donald Trump. I can actually understand this, to a degree. But what raises my ire is when Dougherty and others are more excited about their correct prior diagnosis than disturbed by the actual prognosis.
Among the sillier attacks against Donald Trump are his allegedly short fingers. That works better than pointing out that he's a national security threat, I guess? Whatever the case, it's an accusation that really bothers him.
The ever-inspirational Chris Christie: "I wasn't being held hostage." He can say that all he wants, but the flood of endorsements that were supposed to follow didn't. Nobody likes being a prisoner.
I'm not fond of linking to Uncle Steve when he's directly talking about immigration, but his look at Merkel and Clinton contains some good analysis.
Gretchen explains how her life became restricted when she married a sex offender, affecting everything from where they live, whether they should have children, and perhaps where they can travel internationally.
Florida is stepping up enforcement against left-lane snails.
As a Twitter follower, I've seen directly Bethany Mandel attract the hate mobs of Breitbart, and it's not pretty. It's even creeped on to Facebook.
Mankind's greatest enemy: The white man.
Too many movies fail the Bechdel Test, so some scripts are up for a rewrite.
The New York Times looks at some of the changes in store for Sesame Street under HBO management. Not sure I like the changes, but it is what it is I suppose.
Something that cuts against arguments right and left, Freddie points out that most PhD's are doing pretty well, actually.
Bradley Birzer reviews a John J Miller story The Polygamous King, which sounds fascinating.
Emily Badger says cities haven't run out of room so much as they're shoo-ing away potential neighbors.
I haven't read the paper, but the idea of conferring automatic relationship status on couples that have kids together strikes me as the law back home that says young girls who get pregnant can become emancipated from their parents early. Some added diceyness to incentives for gents and ladies who want to hold on to their partner.
Loneliness is a public health hazard that may be akin to smoking and obesity. Remember, though, how justified we are in socially isolating smokers and the obese because their behavior is so unhealthy.
About the Author
If you are interested in subscribing to new post notifications,
please enter your email address on this page.