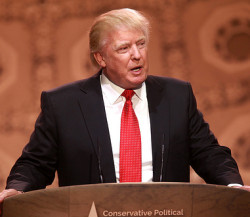 A conversation in Hanley's post occurred in which there was a lot of skepticism towards the notion that relevant Democratic voters would support Trump or Trumpism. The sense I get is that sure there may be some but it's got to be very few because most already bolted for the GOP anyway. While it's tempting to assume that Trump Democrats would be an odd mismatch because Trumpism seems so incompatible with the national party, I suspect that there is more to it than that. I fear that there may be. If I'm construction what a Trump Democrat looks like, it would probably be along these lines:
They're socially conservative-ish, at least in an abstract way. Somewhat low-information. They're likely concerned about the minorities moving into "their" neighborhoods. They hate Press 1 For English and probably forward inappropriate jokes. They're tired of the government letting all of these unauthorized immigrants in. They were against gay marriage, but when the tide turned they realized that they didn't actually care all that much. They hate the thought of America as being weak and their foreign policy is Jacksonian in instinct (not that they'd know the term). The Wall Street Bailouts probably infuriated them. The word this may remind you of as you read this description is "Republican," but that's only a part of the story. The other part is that they think the government needed to bail out homeowners and not the banks. They want health insurance. They think if you work 40 hours a week you should be paid enough to live on and that it's been far too long since the minimum wage went up. The minimum wage is one issue they are far more likely to be familiar with, even if they don't work minimum wage jobs they're more likely to know people who work in between the minimum wage that is and the minimum wage that should be.
So they vote Democrat. Many of them – outside of the South, at least – voted for Obama. If Rubio or Cruz gets the nomination, they'll probably vote for Clinton. Because the alternative is the Republican Party. That's their boss's party, and their boss's boss's party. That's the party of the corporate mongers who lay people off at a moment's glance. It's the party that doesn't even care about the issues on which they probably agree like immigration and affirmative action. On the issues that matter to them, they're as likely to cave as not. And those aren't the issues that matter most.
Enter Donald Trump… well, he's a Republican, but he's a very different sort. He's successful and he will make America successful. He's a corporate gladiator, but he'll be our gladiator. On immigration, he gets it. He's not nearly as obnoxious as the Democrats. And he looks like he's not going to do anything with Mom's Social Security Check and will fight for my insurance like a Democrat. Except he'll be less obnoxious and will put those other people in their place. He's speaking to me and people like me.
If it weren't for Trump bleeding Republican voters, I suspect there would be enough of these people to put Trump over and make him the next president. But, of course, he will bleed Republican support. He's going to lose because he is Donald Trump and he doesn't quite have the coalition. But if the party goes the way of Trump, then they can start building a coalition from there, and without a lot of the less popular economic policies, they'd have room to maneuver. And at some point, that coalition stands a really good chance of winning at some point. With the help of unaligned voters and current Democratic voters.
About the Author
If you are interested in subscribing to new post notifications,
please enter your email address on this page.