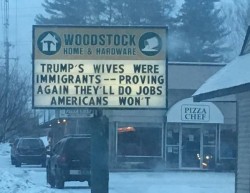 A glance at the twelce categories of email in the inbox of Melissa Click, she of "I need some muscle over here!" fame.
I wonder what, if anything, has changed from this 2002 article on ticket pricing.
Eric Bolling apparently believes that Sesame Street is all about left-wing communism.
Well, the plaintiffs didn't get much of anything, but at least the lawyers got paid handsomely.
I am fascinated by the prospect of a Dirk Gently TV series, though bummed if it takes place in the USA.
Nautilus looks at the mathematics and psychology of the lottery, and Chidike Okeem argues that anti-lottery zealotry is errant, hubristic, and puritan.
Andrew Stiles is not very impressed with political dating apps. I… can't work up too much outrage. If it's a dealbreaker and/or something important to you, go for it. Compatible value systems are important, and if politics is a part of that value system… well, a dealbreaker in a spouse isn't the same thing as a dealbreaker for friendship. Also, things that make me glad I'm not young and single.
The University of Idaho remains on an island in FBS football with little opportunity to find its way into a regionally appropriate football conference. As such, they run the risk of being the first football program to drop to FCS. New Mexico State may not be far behind.
What's the opposite of an uplifting sports story? This is the opposite of that.
If you need an elderly woman for a photo op and don't have one, it's a bad idea to dress a man for the part, it turns out.
Jacob Heilbrunn argues that Germany was right to allow republication of Mein Kampf.
Camestros Felapton explains that no, the Nazis were not leftists.
City Journal has an interesting look at how Christchurch (NZ) rebuilt itself after an earthquake.
Why the trip to seems to take longer than the trip back from.
Thought we may have the ability, in the future we may not need to remember so many complicated passwords. I still can't get over that a college football message board requires more complicated passwords than does my bank.
About the Author
If you are interested in subscribing to new post notifications,
please enter your email address on this page.