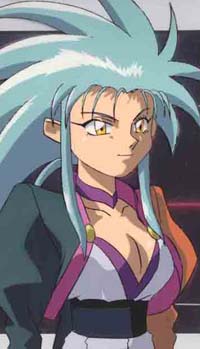 The day before yesterday I discussed a wall scroll. I narrowly avoided getting into a sidetrack discussion as to why they'd make a nude scroll to begin with and the rules they seem to play by when creating-enticing entertainment.
The Japanese take a slightly different view of nooditty* than we do. That's not to say that they're necessarily a whole lot more liberal on the subject (though they may be — I only see a fraction of what they do), but they seem to follow different guidelines at least as it pertains to animation. It's too easy to say that Japanese animation isn't almost always aimed at kids the way that our animation is. Even stuff that seems to be at least partly aimed at younger audiences has nooditty and therein lies the more crucial difference. I don't have a problem withholding adult material from my potential future children, but what do I do about the kid-oriented stuff? Wait till they're too old to more fully enjoy it? Show it?
From as near as I can tell, Japanese animation is cool with bare brests with one major caveat: no human fully-female brests. When I look back at the kid-oriented anime that I have seen, they seem careful to present brests only of characters are such that you can't get full pornographic enjoyment out of it.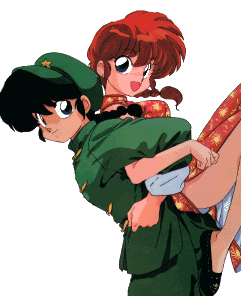 For example, one series that shows brests quite frequently is Ranma 1/2, but they only show the brests one of major character, Ranma himself. Yeah, "himself", the character is a boy. Or a boy that physically changes into a girl at any rate and girl-Ranma goes bare-brested far more often than boy-Ranma does. None of the genuine girl characters (as far as I can recall) show brest. Another example is Tenchi Muyo, wherein one major character, Ryoko, gets brest-play (though I can't recall if they show nipple, the scene that comes to mind is in a hot tub of sorts). Ryoko, it's worth mentioning, is a human-looking monster of sorts (think Frankenstein's monster in origin, but without the scarrage). I can't recall completely, but they might be a little liberal with Ayeka, too, but she's a human-looking alien (and if they are liberal, they're not as liberal as they are with Ryoko). This doesn't entirely count because it is slightly more aimed at an older audience (but not much older), but the character they are most flesh-liberal with in the seminal Neon Genesis Evangelion is Rei Ayanami, who is… wait for it… not entirely human.
None of this is to say that they don't play heavily on sex appeal of their human characters. Just like American adolescent entertainment, they do, but as also with American entertainment, they do so within certain guidelines. Panties and cleavage and all that. They also play on the sex appeal of their not-entirely-human-female characters such as girl-Ranma, Ryoko, and Rei. Girl-Ranma's nakid upper-half is shown far moreso than boy-Ranmas. Ryoko and Ayeka fighting in a hot-tub wasn't entirely a piece made for character development, and so on. Nonetheless, I sense that they have clear boundaries like we do, it's just different boundaries that don't make as much sense to us. They make a distinction between girl-Ranma and love-interest Akane, but we would be less likely to notice that distinction than the fact that Ranma (boy and girl) is a minor, as is the physical development of Rei (Ryoko, on the other hand, is 800 or so years old and I think is supposed to look like she's in her 30's)
And that's how I ended up with a nakid Key Mima on my wall. Because she's kinda-sorta a robot, it's no big deal. Absent giving someone a link to this post, it is kinda hard to explain to outsiders. And to kids, so there's one more post coming up to round up.
* – I'd rather this post not make me blackballed with webfilters everywhere.
About the Author
If you are interested in subscribing to new post notifications,
please enter your email address on this page.