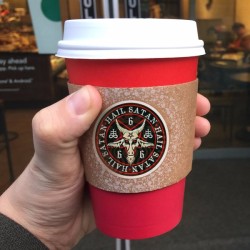 Jeffrey Taylor of Salon says "Hooray for Satan and Satanists!"
Eitan Hersh explains how Democrats suppress the vote! Okay, the headline is hyperbolic, to say the least, but off-schedule elections aren't just for Republicans! (Neither is trying to disqualify potential voters by making voting more difficult, which you sometimes see Democrats do in districts with military bases.)
At some point the conversation seems to be shifting (according to some) from "An enduring Democratic majority is inevitable" to "an enduring Republican majority will be illegitimate."
Freddie wants the Democrats to move beyond the Coalition of the Cool. I understand where he's coming from ideologically, but tactically it seems to have worked pretty well.
Ardis E Parshall explains (sympathetically) the Mormon policy on children of gay parents.
Sarah Conly explains how China's recently terminated One Child Policy was a good thing. Leaving aside the central question, I'm not sure how you can separate the enforcement mechanisms (which Conly opposes) with the policy itself.
Relatedly, we've recently discovered the best chance of life outside our solar system.
With the Fifth of November come and gone. Bradley J Birzer writes about how V for Vendetta represents the graphic novel at its best.
Karan Mahajan looks at the history of Asian America.
Katie Herzog reports on the decline of the alpaca in the US. Only tangential since they're two different things, but one of the things I miss about the west is the llamas.
No more free rides for some gay couples.
Scott Sumner believes we owe Texas our thanks. Norway, on the other hand, thinks that "Texas" is shorthand for crazy.
Barbara McClay hates tipping. PEG dissents.
The perils of being casual about sex and serious about consent.
Relatedly, Rebecca Traister argues that we need to be talking about the ways that consensual sex can be bad.
Bjorn Lomborg thinks we're focusing too much on wind power.
About the Author
If you are interested in subscribing to new post notifications,
please enter your email address on this page.