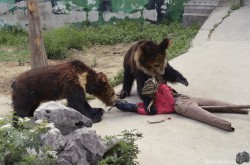 At Unz.com, Chanda Chisala looks at intelligence and two different African-American populations.
Lauren Gurley writes about the urban bias of sociology and the left's disinterest in rural American poverty.
Recently I linkied a liberal case against Birthright Citizenship. This week, the conservative case for Birthright Citizenship.
Under a new definition of planethood, the moon is a planet.
The Swedish central bank has a negative interest rate on deposits, leading people to stash their money at home.
Gabriel Rossman has some smart words about excessive statistical controls, where if you don't like the effects of X, you simply control for X.
Adam Ozimek lays down his predictions for 2045.
Dr Farah Khan explains how she deals with racist patients and the frustration of being denied as an Indian and an American.
Reviewing a book, Jesse Singal looks at the black activists who helped launch the drug war. In the comment section of a related article, Freddie chimes in.
It appears attempts to hook ruralia up with broadband was evidently a spectacular failure.
Kris Hartley writes of the potential of rural industrialization in China.
Drone Assassin: A Feminist Success Story
I have historically thought their virtues were overrated, but I'm coming around on the idea of nonpartisan elections (at least at the state and local levels).
The hardship of being obscenely rich.
Brian Boyd writes of the Nietzchean nature of Gotham.
About the Author
If you are interested in subscribing to new post notifications,
please enter your email address on this page.