Anthony Bourdain eats at Waffle House, and declares it good:
For some reason, my dad isn't a big fan of Waffle House, so I rarely got to eat there growing up. And inexplicably, Denny's, where Dad did like to eat, didn't offer waffles. So I lived something of a waffless household.
Imagine my surprise when I grew up to discover… I didn't actually like waffles very much. I mean, they're okay, I guess, but pancakes tend to taste better. Or maybe it just didn't live up to ten years of hype in my mind?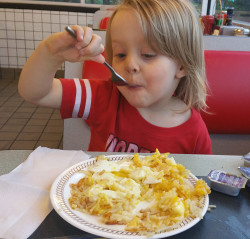 But I do, it turns out, like Waffle House. There is a Waffle House in Millsburg near Clancy's workplace there (she also works in Stonebridge, right by our old house). Whenever I have to take Lain up, we do go to Waffle House. Not to get waffles, though. And pecan waffles sound pretty disgusting. But the general menu is pretty greasy and good. The atmosphere is pretty nice as well.
You can tell who they cater to by the signs of the signs politely asking you not to sexually harass the waitstaff and informing you of the steps they may take if you do.
One of Lain's favorite books is Curious George Makes Pancakes. If you're at all familiar with CG, you can probably guess the plot. We're at the phase where I like to ask Lain "Where is the X" and she points to it. Or I point to something and she tells me what it is. She likes to book about pancakes so much, I thought she might get a real kick out of trying some. But the couple of times I have tried to take her to IHOP, she has sort of gotten into a fit and doesn't want them.
I wonder if she'll like waffles.
About the Author
If you are interested in subscribing to new post notifications,
please enter your email address on this page.