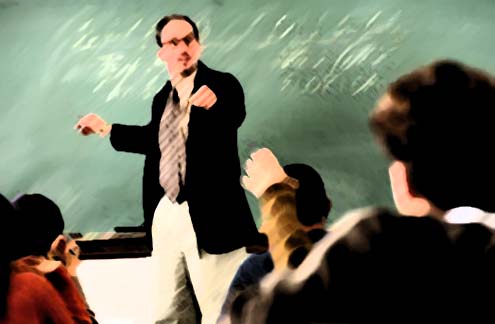 The first six weeks in Mr Colvin's science class was a blast. The next six weeks changed my life.
I got my first report card in the second grade, and I don't even have to be humble because it told everybody how much I rocked. I rocked so much that I didn't need to worry so much about paying attention in class and doing homework. My next report card wasn't quite as generous, but it was generous enough. The report cards became more and more sparse in their praise. That was okay, though, because I completely accepted mediocrity. Well, not even mediocrity. All that mattered was that I was passing. My parents, sensing that I wasn't the sharpest academic tool in the shed, were okay as long as I was passing.
I got a lot of 70s in elementary school. In Delosa, 70 is passing and 69 is not. The mathematical probability that I got that many 70s was, to say the least, low. In retrospect, I was almost certainly being socially promoted. I was a good kid, after all, and I wasn't stupid. I was just… different. Special. Every sentence that started off explaining how I wasn't stupid ended with reasons why I was not capable of making the same grades as everyone else (or better).
When I got to Larkhill Intermediate, I intended to continue coasting as I always had. What I didn't realize was that junior high is a completely different world from grade school. Few of my teachers knew my mother. Since my smart brother was in honors classes, I didn't have his extended halo over my head. My other brother's reputation wasn't particularly helpful until I tried out for the basketball team. The guard rails were gone and I got two F's on my first report card, one in reading and the other in science. The grade in reading was a 68, which I could bring up without much problem. The science grade was… a 60.
There are parts to this story, only one third am I going to share tonight. All you need to know about the other relevant third is that I went home so obviously devastated that my parents did not see fit to give me any sort of formal punishment. Mr Colvin, the science teacher, could tell that something was wrong the day after report cards came out. I could see him looking at my nearly dispondent self. He slipped a note to me to talk after class. I figured he was going to yell at me or something. No teacher had ever asked to speak with me after class.
Colvin gave me the schpeil about being a smart kid. He said he felt bad about the grade, but that he could tell that I wasn't going to try to catch up if I didn't appreciate how far behind I was. But he would make me a deal. If I made a B or better the next six weeks, he would raise the grade to a 65. The idea was preposterous. A B in science? From a teacher that had just destroyed me? Preposterous!
My best friend Clint was in that class with me and we were both the reason that we were doing so poorly in that class. The first six weeks had been so enjoyable because he and I were passing notes and doodling and screwing around. Obviously, that was going to have to change. He had gotten a 70 in the class and I had gotten a 60. He was confused when I was suddenly starting to pay attention in to Mr Colvin and doing my homework. But once I started, he didn't have anything he could do but follow suit. When the next report card rolled around, my grade was a 95. My lowest grade had been my highest. Clint, in the remaining one third of the whole story that I will not today share, got a 100.
Improving my grades was startlingly easy. So easy, in fact, that I kept thinking that I was just getting lucky. When my parents praised me, I would lie awake some nights fearful of how disappointed they would be when my grades turned back to "normal". Then, gradually, I learned that normal changed. I had help from my father, but for the most part I discovered that it was simply a matter of doing the homework. I read each chapter for science, but in most of the other classes where my grades were my grades were also improving I didn't even have to read the chapters. I just did the homework, tried as hard as I could on the tests (which I only occasionally bothered to study for), and before I knew it my grades were getting pretty good. The last two six weeks of my Larkhill schooling, I got straight A's.
I appreciate what the elementary school teachers were trying to do when they passed me when I didn't deserve it, but the teacher that most stands out in my life was Mr Colvin, who not only did what needed to be done, but took the time and attention to try to help me undo it.
About the Author
If you are interested in subscribing to new post notifications,
please enter your email address on this page.