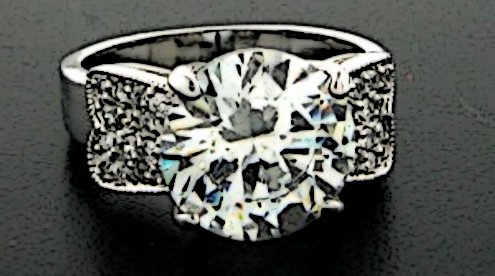 Several years ago I was dating a girl named Julie and was preparing to propose to her. Though we'd never openly discussed it, Julie had been periodically pointing out rings that she liked and didn't like. As with other aesthetical things, we didn't particularly share the same taste. It didn't really matter, though, because the ring I was going to use was an old family ring on my mother's side. There was also a wedding ring back there, too, though from a different source. Mom's family, however, was generally of modest means. I did not suppose that the ring was anything by befittingly modest. I was fine with that, though it did not seem what Julie had in mind.
I found a way to indirectly ask her if she would have a problem with a more modest ring. I told her that I liked the idea of using family heirlooms. She was indifferent to the heirloom aspect of it all, but said that she would gladly accept any ring that I would have to offer whenever the timing might be right for such a thing. Then she asked "So just curious. How modest, exactly?"
The ring became a focal point of some of the doubts that were festering in the back of my mind. Not that I thought she would reject the ring. At that point she was hanging much more tightly around me than I was holding on to her. But though it's one thing to lose a $2,000 investment if an engagement or marriage doesn't work out. It's another to lose a deep family heirloom. The former hurts financially. The latter spiritually. The fact that before I was even considering proposing I was already contemplating the effects of divorce was a lightning rod for my increasingly anxious mind. I was increasingly realizing that even as I was planning to spend the rest of my life with her, I wasn't wanting to.
A couple weeks ago Clancy and I went out for a pizza and ended up at an art exhibit that was on the first floor of the second floor restaurant. The artist was absolutely amazing. His paintings centered on the western landscape. What initially was going to be a quick passthrough ended up with us looking at every framed painting as well as looking through the book. Naturally, we caught the attention of the guy manning the exhibit. He was gentle and charismatic with his sales technique. We told him rather honestly that we did love the paintings but that we were not at a time in our lives where would could afford such things.
As we left, we noted that he probably didn't believe us. Salespeople notice things and Clancy's engagement and wedding ring were undoubtedly among them. The wedding ring has over a dozen not-big-but-not-tiny diamonds on it. The engagement ring has three larger diamonds and a few specks of ones on either side. I don't know how many there are total. It was not what I had in mind with Julie years before. It was, in fact, something I think she would have really approved of.
Being the wonderful woman that I married, Clancy cares less about the diamonds than about the family history. She, like myself, is less than impressed with some of the flashier rings in today's style. Luckily the diamonds are set low and are therefore unobtrusive. But they sparkle and even low-key Clancy kind of gets a kick out of that.
I take Julie at her word that she would have graciously accepted any ring that I had to offer. Even so, it's a bit funny that had I saw the ring I never would have asked the question which had the answer that put me ill-at-ease.
About the Author
If you are interested in subscribing to new post notifications,
please enter your email address on this page.