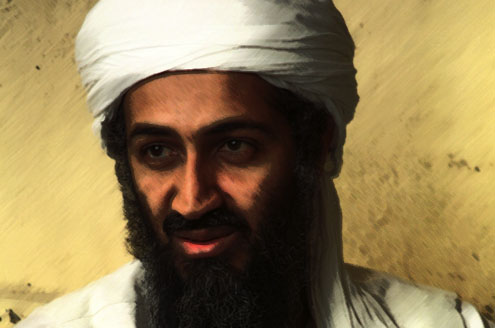 Just earlier today I was writing a post referencing my belief that bin Laden has been dead for over half a decade. I said he'd been dead "for some time now" in 2007.
Oops.
So while everyone else celebrates, I feel a bit let down. Not just about being wrong, but that he's been alive this entire time. Some reports say at a luxurious villa. Damn.
So where was I when I found out? Sitting here. I am setting up RSS on my cell phone. So I was going around from site to site – not reading anything – to get the appropriate RSS/atom/feed link, wondering why the heck several sites were showing pictures of bin Laden. Finally I got the RSS set up on the phone and hit "update" and read the titles, which spelled it out.
Anyhow, it's strategically unimportant. I do believe that bin Laden has been more-or-less sidelined (though maybe not, alas, in some god-forsaken cave somewhere). And it's really almost too late to take any real joy in it. It kind of passed it's "satisfying" expiration date. I also disagree with those saying that this is going to be politically huge. Obama might see a bit of an uptick, but it's too far away from the election to have a sustained impact. And it's too far from his taking office. If he'd been able to say "We got him within one month or six months of my taking office!"… that would have been something to brag about.
Addendum: So they're saying he was in a "mansion" in Abottabad, a suburb of Islamabad and according to some "a tourist destination." Tom Clancy had his bin Laden stand-in ("The Emir") actually hanging out in Las Vegas, figuring that it was the last place anybody would be looking for him. In other news, some people are actually asking about CIA jurisdiction. Given the givens, are we really going to care? I doubt Pakistan does. This is probably a load off their mind.
Addendum II: I think I may have spoke too soon on the political implications. It does seem to me that this could have longer repercussions if Obama can successfully use this to combat the shadow "whose side is he really on" thoughts that some people have, as well as the argument that he has been in over his head in day one. This will likely earn him some personal good-will, which could throw some votes his way in the event that it is close.
About the Author
If you are interested in subscribing to new post notifications,
please enter your email address on this page.