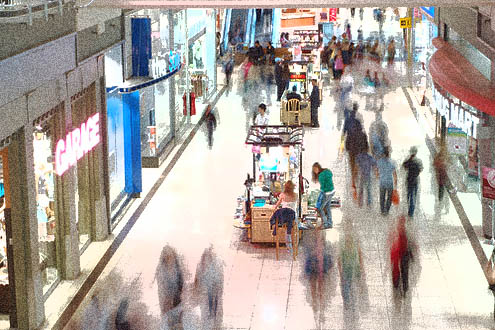 On the Camelot BBS I came to sorta know a girl who went by the name Whirlwind. I was a poor friend to her brother and a good fake son to her mother. For some reason (I can think of a few), she just didn't like me (even in that brotherly way I had come to fear and expect). Without much choice, I chose not to like her, either. She dated my friend Clint for a spell as well as another friend whose online name was Cladger. Cladger was one of those guys that I always wanted to be friends with because he was a great guy on paper but he was a little too much of a sycophant in reality.
Cladger called me up one day and said that there was something that I had to get in on. What? He wouldn't say. He needed a ride to Southfield Mall, though. Oh, and he'd be bringing a couple other guys, Kermit (whom I knew) and Nathan (whose handle, "Nathan", I'd seen online, but whom I'd never talked to). I picked up Cladger first so that he could guide me to Kermit's house, where Kermit and Nathan would be. As I drove, I quizzed him on what exactly was going on. He said that Whirlwind and Nathan had struck up a little online romance and that they were going to meet.
Seeing as how everyone seemed to be having better romantic luck than I was, I didn't know why in the world he thought this would be something that I would want to see. "You brought me here to chaperon Whirlwind meeting some guy?"
"No, I brought you a front row seat. You're going to want to see this."
The second that I saw Nathan, I said three words to Cladger: Oh, wow, and thanks.
It wasn't just that Nathan was obese – I'd seen heavier. It was the slimy, repellent nature of his obesity that was truly astonishing. His skin looked like it was struggling to keep the fat inside of it like a pillowcase holding four pillows and about to burst at the seam. His elbows were hidden under a rag of peachy fat. He had no neck, which you almost didn't notice except that when he looked down what he had of a chin immediately became buried in fat. Had his face been covered end-to-end in acne, it wouldn't have looked any worse than the pin-sized pores on his face barely visible through a waterfall of sweat.
Whirlwind had declared herself too good for Cladger. She had declared herself too good for my best friend. She had declared herself too good to be even the most casual of friends with me. I cannot presently recall where I was on my weight rollercoaster at this time, but I am pretty sure that I was significantly below my peak and, while perhaps not desirable to most, not repellant. Not like Nathan. How in the world was she going to respond to this guy meeting her at a mall?!
After the girls were running half an hour or so late, we decided that maybe we hadn't communicated where it was that we were supposed to meet, so we started walking around the mall. And walking, and walking. After about half an hour we did stumble upon them. They politely waved and said hello, but never stopped walking. They acted as though it was a coincidence that we happened to see each other. As though there hadn't been plans. As though she hadn't spent the previous week spilling her guts to a guy that had hooked a ride to the mall to meet her. It was enough that I began to wonder if Cladger had misrepresented the nature of the meeting.
"That's weird," Nathan said, "I thought we were supposed to hang out." It was only when he said that when the obvious occurred to me. Of course they were here to meet him. Upon seeing him, meeting him was the last thing that they wanted to do. It was a real let down compared to the show that I was hoping to see, but the idea of all the icks she must have been feeling over the span of weeks would have to be reward enough.
"Maybe they didn't recognize us, Nathan," Cladger said, ignoring the fact that he and Whirlwind had dated. "How did you describe yourself?"
"5'8, brown hair. Glasses. Kind of overweight, but I work out."
I found that hard to believe.
Nathan was ultimately unphased, even when she hid from him immediately after the meeting. He made his way to a couple of Camelot parties afterwards and almost singlehandedly ruined them due to his very unpleasant odor and appearance. The smell was easy enough to avoid in the mall because it was a very open atmosphere. It was much harder at Excalibur's house and so when he entered a room, people would find a reason to disperse until we eventually all ended up outside in the insane Gulf Coast summer heat because it was so much easier to spread out and shift as the winds carrying the odors requested.
Though he may have never knew how badly he smelled, he must have known that there was something putting everybody off. He tried to make up for it by talking as though he hadn't been the reject all of his life that Tom confirmed he was. He spoke vaguely of an ex-girlfriend, described himself as "bi-curious" as it was considered cool and edgy to be at the time. Over and over again he tried to present himself as alternative. As many of our peers reasoned, if you can't be better, try to be different. Really, though, it had the equivalent effect of putting on heavy cologne to cover up the smell of cigarettes: even it wasn't quite as odious, it was twice as strong and even more unpleasant, on the whole.
About the Author
If you are interested in subscribing to new post notifications,
please enter your email address on this page.